Meet Folhapress
Folhapress
Folhapress is the news agency of the Folha Group, one of the most traditional in the country. Every day it sells and distributes photos, articles, columns, illustrations and infographics from the editorial content of the newspaper Folha de S.Paulo, of the newspaper "Agora" and from partners in all States of Brazil.
The commitment of the Folha Group to the production of journalism that is critical, modern, pluralistic and non-partisan ensures the generation and distribution of agile, trustworthy and independent news.
Every day, Folhapress puts articles and photos about daily life, politics, economics, culture and sports at the disposition of hundreds of newspapers and magazines from all regions of Brazil.
It also offers for reproduction, together with Folha or "Agora", thematic sections, articles, special reports and art that meet the diverse interests of the widest range of readers: health, tourism, information technology, behavior, youth, vehicles, business, TV, astrology, crosswords and others.
Great names in Brazilian journalism, intellectuals, celebrities and prominent professionals in their fields write columns and articles that are distributed exclusively by Folhapress. Clóvis Rossi, José Simão, Carlos Heitor Cony, Gilberto Dimenstein, Ruy Castro, Tostão, Delfim Neto and Danuza Leão are some of the names that make up this team.
On the Folhapress site there is a collection of photographs that brings together more than a decade of daily journalistic production: the first online database of images from photojournalism in Brazil, already with more that 500,000 indexed pictures. All available for reproduction in newspapers, magazines and books, for use in exhibitions, in advertising campaigns and in commercial products.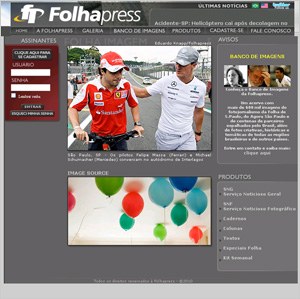 Sobre a Folha | Expediente | Fale Conosco | Mapa do Site | Ombudsman | Erramos
Atendimento ao Assinante | ClubeFolha | PubliFolha | Banco de Dados | Datafolha | FolhaPress | Treinamento | Trabalhe na Folha | Publicidade
Copyright Folha de S.Paulo. Todos os direitos reservados. É proibida a reprodução do conteúdo desta página em qualquer meio de comunicaçao, eletrônico ou impresso, sem autorização escrita da Folha.com.