Meet Publifolha
Publifolha
Created in 1995, Publifolha, a Folha Group publisher, has released more than 1,000 editions and has more than 600 titles in its catalog. The first publication was the book "Primeira Página" (Front Page), that brings together the main covers of the newspapers "Folha da Manhã", "Folha da Noite" and Folha de S.Paulo since 1921.
The most recent edition, released in February of 2011, has 223 pages from 1921 to 2010. In 2000, the collection Folha Explica (Folha Explains) was released, a series of reference books that approach 40 fields of knowledge from a Brazilian perspective. Already 85 volumes are available in bookstores, covering such subjects as the philosophy of Nietzsche, fashion and GMO's (genetically modified organisms).
The publisher prints works in 21 fields, among them tourism, administration and business, professional development, linguistics, science, humanities, journalism, Brazilian and foreign literature, art, infant care, health, sexuality, behavior, cuisine and children's books.
It is currently the leader in publishing tourist guidebooks, thanks mainly to the "Guias Visuais" (Visual Guides), that provide detailed information on 37 cities, countries and regions, with guides and recreational suggestions for tourists.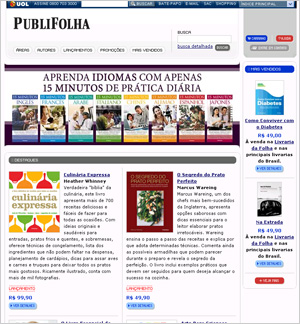 Sobre a Folha | Expediente | Fale Conosco | Mapa do Site | Ombudsman | Erramos
Atendimento ao Assinante | ClubeFolha | PubliFolha | Banco de Dados | Datafolha | FolhaPress | Treinamento | Trabalhe na Folha | Publicidade
Copyright Folha de S.Paulo. Todos os direitos reservados. É proibida a reprodução do conteúdo desta página em qualquer meio de comunicaçao, eletrônico ou impresso, sem autorização escrita da Folha.com.