Meet BOL
BOL
BOL (Brazil Online) is the pioneer free email service in the country, with more than 3.7 million active accounts, according to data from June of 2010. The website also gathers news and entertainment channels, with daily updates.
Launched in April of 1996 and incorporated by UOL in September that year, BOL now has approximately 550 million page views per month, including news, pictures, videos, webmail and chat. According to the Omniture metrics tool, the website has about 10 million unique users monthly.
BOL Chat, the main entertainment channel on the website, has about 50 million page views monthly, on average, divided among 681 chat rooms and nine subjects.
The BOL news channel, with a monthly average of more than 120 million page views, is fueled mainly by reports from Folha.com and UOL, in addition to bringing articles and pictures from the main national and international agencies and content partners.
The sale of advertising, sponsored links and other commercial activities of BOL is conducted by the UOL Publicity team. The website also uses UOL platforms for blogs, photoblogs, videos and photo albums.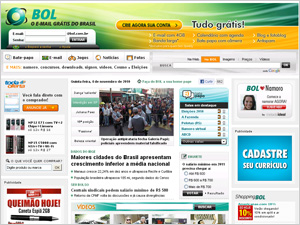 Sobre a Folha | Expediente | Fale Conosco | Mapa do Site | Ombudsman | Erramos
Atendimento ao Assinante | ClubeFolha | PubliFolha | Banco de Dados | Datafolha | FolhaPress | Treinamento | Trabalhe na Folha | Publicidade
Copyright Folha de S.Paulo. Todos os direitos reservados. É proibida a reprodução do conteúdo desta página em qualquer meio de comunicaçao, eletrônico ou impresso, sem autorização escrita da Folha.com.