Meet Valor
Valor
Launched in May 2000 as a result of the union of the Folha Group and the Globo Organization, the newspaper "Valor" has become the most important journalistic reference in the world of business and finance in the country. With national circulation, the paper is known for the quality of its editorial content, attractive language, elegant appearance, balanced approach to the news, analytical depth and the excellence of its writes.
Besides the daily national and international coverage (supported by the copyright of articles of the most renowned foreign papers), "Valor" publishes about 100 special sector supplements and 45 magazines annually, among them annuals and "ValorInveste", a monthly publication on personal investing. Its department of events holds close to 15 seminars a year, in Brazil and abroad.
"Valor" circulates daily with four sections:
Primeiro Caderno (First Section): Reporting and articles on macroeconomics and other domestic, international and political subjects, the "Opinion" section, that has editorials and articles from the contributors to the paper, and a back page with special material or an interview.
Empresas & Tecnologia (Companies and Technology): General and targeted news about manufacturing, services, technology, infrastructure, trade and agribusiness.
Finanças (Finance): Information and analysis on the financial markets and coverage of banks and companies in the sector.
Eu& Investimentos: Deals with personal finances, investments in the stock market, public companies and subjects such as career, books, tourism, wine and cuisine. On Fridays, in tabloid format, Eu& Fim de Semana (Me& the Weekend) comes out, oriented towards culture.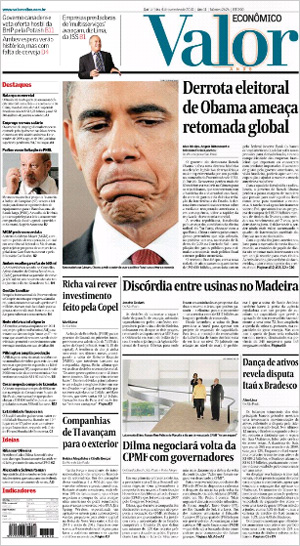 Sobre a Folha | Expediente | Fale Conosco | Mapa do Site | Ombudsman | Erramos
Atendimento ao Assinante | ClubeFolha | PubliFolha | Banco de Dados | Datafolha | FolhaPress | Treinamento | Trabalhe na Folha | Publicidade
Copyright Folha de S.Paulo. Todos os direitos reservados. É proibida a reprodução do conteúdo desta página em qualquer meio de comunicaçao, eletrônico ou impresso, sem autorização escrita da Folha.com.