Latest Photo Galleries
Signs of Tension
Published on 04/11/2016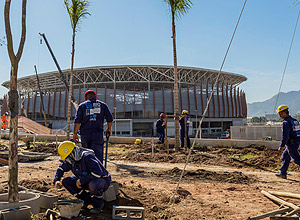 Rio: a City in Metamorphosis
Published on 11/19/2015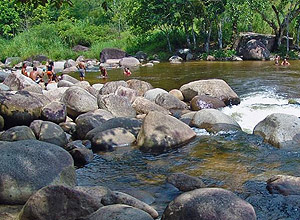 Crystal Unclear: A Future for Water Resources in Brazil
Brazilian Markets
18h20

Bovespa

+1,57%
86.383

16h43

Gold

0,00%
117

17h00

Dollar

-0,22%
3,4780

16h30

Euro

+0,49%
2,65250
According to 65% of Brazilians, Women Wearing Short Clothes Deserve Harassment
03/28/2014 - 09h03
LEANDRO MACHADO
FROM BRASÍLIA
FROM SÃO PAULO
Most Brazilians (65.1%) agree, as a whole or in part, that "women wearing clothes showing their body deserve harassment." The majority (58.5%) also say they believe that "if women knew how to behave, there would be less rapes."
On the other hand, 91.4% of the population agrees that "a man beating his wife has to go to jail" and 82.1% disagree with the statement that "a woman who gets beaten at home should be quiet not to harm the children."
The results come from a survey released yesterday by IPEA (Institute of Applied Economic Research). Data was obtained from interviews with 3,810 people of both sexes between May and June 2013.
Respondents were presented with a list of statements and asked whether they agree or disagree - fully or partially - with the statements. The error margin is of 5 percentage points.
According to the study's conclusion, "the main results presented here indicate an ambiguity in discourse. Men rulling over women is still accepted by the population, but physical violence is not tolerated."
Still according to the conclusion: "However, with regard to sexual violence, most people still consider women as responsible for the behavior due to wearing of provocative clothing or 'inappropriate' behavior."
For the coordinator of the Sexuality Studies program at USP, Carmita Abdo, the results of the study are not surprising, considering society still blames the victim in cases of abuse. "What leads to harassment or rape is not the clothes that the woman is wearing, but anyone who want to harass or rape" she says.
The survey release occurred now on the occasion of International Women's Day (March 8) and draws attention following recent cases of sexual abuse in SP subway system.
A second study also published by IPEA, estimates that there are 527,000 attempted rape cases or rapes in Brazil of which only 10% are formally denounced to the police.
The estimate was taken from questionnaires prepared by the institute.
PROFILE
Regarding the statement about the use of short clothes, the ones who totally agree 42.7% and partially agree 22.4%, show that the profile of respondents in the main survey with higher educational level demonstrate less correlation.
Another statement presented to respondents is "what happens to the couple at their home it would not matter to others." This has 58.4% of total agreement and 23.5% partial agreement.
The higher the education, the less likely it is to find agreement.
Translated by SIMONE PALMA