Latest Photo Galleries
Signs of Tension
Published on 04/11/2016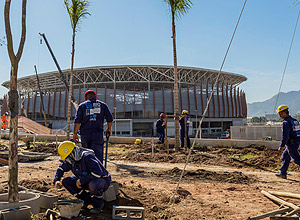 Rio: a City in Metamorphosis
Published on 11/19/2015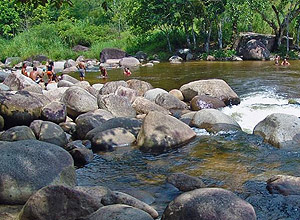 Crystal Unclear: A Future for Water Resources in Brazil
Brazilian Markets
18h20

Bovespa

-1,52%
78.898

16h43

Gold

0,00%
117

17h00

Dollar

+0,54%
3,6690

16h30

Euro

+0,49%
2,65250
Half a Century Ago, Tropicália Movement 'Crashed the Party'
04/10/2017 - 11h15
The author recollects the cultural melting pot from which the Tropicalismo cultural movement emerged in Brazil. As it included foreign imagery and themes of the consumer society, the movement's forms were quite different from the political songs that were popular in the 1960s. The article states that echoes of the movement still find resonance in Brazilian art today.
Three years ago, when Brazilian singer Caetano Veloso's "Abraçaço" tour was performing in New York, I had the opportunity to meet with him in his apartment in the East Village.
Veloso was coming from Los Angeles with his band, Banda Cê, and he was particularly excited with the positive reviews he had received from Randall Roberts, a critic of the Los Angeles Times, on his performance in the city. Veloso found the article on the Internet and insisted on reading to me the part in which Roberts mentions the song "Baby" on the set list.
Like another of his most popular songs, "Alegria, Alegria", "Baby" was released in 1968 and differed greatly from the dominant nationalist motif in songs filled with protest and political messages. The song attracted the hearts and ears of most the country's leftist youth in the wave of protests against the ongoing Brazilian dictatorship period.
The movement's internationalist ambitions took off from the platform left by another popular style, Bossa Nova, a successful and sophisticated synthesis of samba with jazz lessons, which put a project for a nation into music through João Gilberto's unique way of playing the guitar.
MODERNISM
The Tropicalismo movement also benefitted from the path left by the Brazilian modernist art movement of the 1920s, although the musicians from Bahia did not fully know of the connection. It was poet Augusto de Campos who introduced them to the works of Oswald de Andrade (1890-1954) and his thesis on anthropophagy.
The relationship with the group of concrete art was an important part of the Tropicalismo movement in São Paulo, which became its main stage. At the time of the music festivals, Caetano and Gilberto Gil were living in the city, and the movement led to a number of critically acclaimed works by São Paulo scholars inside as well as outside universities.
Although the foreign or directly North American influence was still turbulent, it could become a smart way to question Brazilians' political conformism and prejudice - among both rightists and leftists.
Once Caetano Veloso said about the Tropicalismo movement that "it was a way of crashing the party." The Bossa Nova and the shack; Brasília and Carmen Miranda; the Beatles and Vicente Celestino, Batman and Santeria (called macumba in Brazil). The contemporary Brazilian culture without the movement would be a lot poorer.
Even in a country that has changed so much since then, the Tropicalismo movement still arouses interest among the younger generations.
MARCOS AUGUSTO GONÇALVES, 61, is a Folha journalist and a collaborator in New York.
Translated by THOMAS MUELLO