Latest Photo Galleries
Signs of Tension
Published on 04/11/2016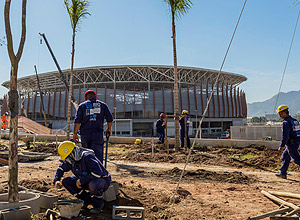 Rio: a City in Metamorphosis
Published on 11/19/2015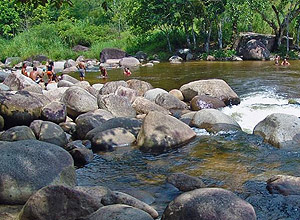 Crystal Unclear: A Future for Water Resources in Brazil
Brazilian Markets
13h37

Bovespa

0,00%
114.648

16h43

Gold

0,00%
117

13h40

Dollar

+1,15%
5,5170

16h30

Euro

+0,49%
2,65250
Pope Francis to Lead Mass in Rome for New Saint José de Anchieta
04/04/2014 - 10h55
GABRIELA TERENZI
FROM SÃO PAULO
SOFIA FERNANDES
FROM BRASÍLIA
Following the signing of the decree canonizing the Spanish Jesuit missionary José de Anchieta, it was announced that a mass led by Pope Francis will be held in his honor, at the Sant'Ignazio church, in Rome, on April 24.
The Pope finalized yesterday morning the canonization of Brazil's third saint, who will now be known as Saint José de Anchieta. Considered the 'Apostle of Brazil', the Jesuit was declared Patron of Catechists by the National Conference of Brazilian Bishops (CNBB, in its Portuguese acronym).
The CNBB invited the governors of São Paulo, Rio de Janeiro, Minas Gerais and Espírito Santo to the ceremony in Rome, as well as the mayors and archbishops of their respective state capitals. The bishops also want to take one or two representatives from Brazil's indigenous communities, who will be chosen by the Indigenous Missionary Council, an organization linked to the CNBB.
In Brazil, the official celebration for the new saint will be held on May 4, at the Santuário Nacional de Aparecida, in the state of São Paulo.
Born on the Canary Islands, Anchieta came to Brazil in 1553, where he was active in converting Indians to Catholicism, and in mediating between Portuguese colonizers and indigenous communities. 'He's a true Brazilian saint,' said Cardinal Raymundo Damasceno, president of CNBB. 'He gave his life to Brazil and to the indigenous peoples.'
Anchieta also participated in the founding of the Piratininga College of São Paulo, the birthplace of the city.
Anchieta's canonization brings to a close a process which has dragged on for 417 years. Religious experts suggest that the persecution of the Jesuits, and their eventual expulsion from Brazil in 1759, is one reason it took so long.
Another obstacle was the lack of anecdotal evidence for two miracles, a criterion of the Catholic Church for sainthood.
However, following a request by the CNBB, Pope Francis accepted the argument that Anchieta's reputation as a holy man and his exemplary life were sufficient reason for canonization.
This argument, however, is unlikely to work for the other twelve Brazilian religious figures who are being considered for sainthood. Among them are Sister Dulce and Francisca de Paulo de Jesus, known as Nhá Chica, who were beatified in 2011 and 2013, respectively.
It has been proven that most of the Brazilians being considered for sainthood were responsible for one miracle; however, the dioceses responsible for their cases must gather all the evidence required by the Vatican, to prove that they performed at least one more.
The five martyrs being considered for sainthood are exempt from this requirement. Brazil also has three Venerables and 83 Servants of God, the first steps on the long journey to becoming a saint.