Latest Photo Galleries
Signs of Tension
Published on 04/11/2016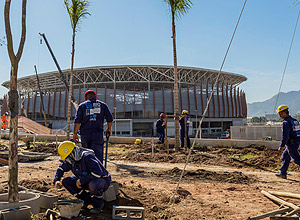 Rio: a City in Metamorphosis
Published on 11/19/2015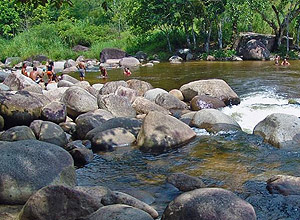 Crystal Unclear: A Future for Water Resources in Brazil
Brazilian Markets
17h30

Bovespa

+0,22%
108.651

16h43

Gold

0,00%
117

17h00

Dollar

+0,31%
5,1290

16h30

Euro

+0,49%
2,65250
Fire Hits Gaucho Cultural Center in Rio Grande do Sul That Will Host Same-Sex Wedding
09/12/2014 - 08h52
PAULA SPERB
COLLABORATION FOR FOLHA
The Center for the Gaucho Culture at Santana do Livramento (495km from Porto Alegre, the capital of the state of Rio Grande do Sul) catches fire on Thursday, September 11th, after receiving threats for hosting same-sex weddings on its premises.
Nobody was hurt. According to firefighters the fire at Sentinela do Planalto started around midnight and was controlled at 2.30am. It is suspected that the cultural center might have been hit by an arson attack. The police will investigate the case.
Every six months, a mass same-sex wedding takes place in the town. Submissions were opened last July for the ceremony that is going to take place this Saturday, September 13th, and it has been determined by judge Carina Labres, 34, that same-sex couples are allowed to participate.
Twenty-eight heterosexual couples and one same-sex couple are expected to attend.
Because this event was scheduled in September, the same month as the Farroupilha Week is celebrated across the state, the judge suggested that the mass wedding take place at the Cultural Center. Sentinela do Planalto was the only center that opened doors to the event.
The Gaucho Traditionalist Movement, the disciplining body to which cultural centers are affiliated, was against.
"These [gay] weddings are not part of our reality. We have always aimed for the conservation of the traditional family. What is going on is an alteration", Rui Rodrigues, 61, has said, president of the town's traditionalist association and counselor for The Gaucho Traditionalist Movement.
The manager of the cultural center that caught fire, Gilbert Gisler, 47, replied saying that the center is following the principles of the Gaucho Traditionalist Movement and strives for human rights of freedom, equality and humanity.
According to Deise Gisler, 45, also the center's manager, the venue started receiving threats after the decision was made. "They have said that if we went ahead with same-sex weddings they would set fire to the cultural center. But it never crossed our minds they would actually do so", she said.
The Gislers say they intend to go ahead with the mass wedding. At any rate, firefighters will survey the venue before the event. Volunteers have also step forward to clean the cultural center ahead of the event.
The brides caught in the middle of the controversy are Solange Ramires, 24, and Sabriny Benites, 26, who have been together for five years and live at the pet shop where they work, in downtown Santana do Livramento.
"Friends, close relatives and even clients have congratulated us for our courage", Sabriny said, who refrained from speaking about the fire. Both women say they go to events at one of the Centers for the Gaucho Culture, especially during Farroupilha week or to attend nativist music shows.
Translated by CRISTIANE COSTA LIMA
Read the article in the original language
Fabian Ribeiro/Raw Image/Folhapress
The Center for the Gaucho Culture catches fire on Thursday (11), after receiving threats for hosting same-sex weddings