Latest Photo Galleries
Signs of Tension
Published on 04/11/2016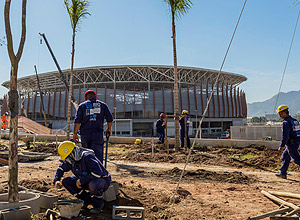 Rio: a City in Metamorphosis
Published on 11/19/2015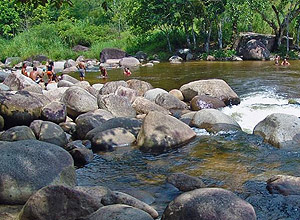 Crystal Unclear: A Future for Water Resources in Brazil
Brazilian Markets
17h35

Bovespa

-1,33%
106.296

16h43

Gold

0,00%
117

17h00

Dollar

-0,74%
5,6250

16h30

Euro

+0,49%
2,65250
Understand the "Car Wash" Operation
11/17/2014 - 09h27
March 17
Brazil's Federal Police operation codenamed Lava Jato (Car Wash) began in six States and in the Federal District (Brasília). R$ 5 million (US$1.9 million) in cash, 25 luxury cars, jewellery, paintings and weapons are seized. Seventeen people were arrested. Enivaldo Quadrado, condemned for the mensalão scandal, is one of them. The suspicion is the scheme run by black-market money dealers have illegally moved around R$ 10 billion (US$ 3.8 billion).
March 19
Federal Police arrested money dealer Naicker Kodama in the act of carrying € 200 thousand (US$271,000; R$602,000) in her underware.
March 20
Federal Police apprehended Paulo Roberto Costa, former director of supply (2004-2012) at Petrobras, on suspicion of destroying and hiding documents. The police started to investigate Costa after he has been given a luxury car from money dealer Alberto Youssef in March last year; he was pointed as one of the leaders of the scheme. Costa claims to have received the jeep as payment for consulting services.
March 22
Folha published Youssef claims of having received 12 million from construction company Camargo Corrêa, without detailing whether the amount was in dollar or real. The information was part of a conversation intercepted by Federal Police on October 13, 2013.
March 25
Brazilian court extended Paulo Roberto Costa's imprisonment based on new evidence: he is accused of receiving kickbacks from the construction project of Petrobras' Abreu e Lima oil refinery (Pernambuco).
March 27
Folha revealed the Director of the Ministry of Health, Eduardo Jorge Oliveira, is suspected of having helped Labogen, a company controlled by Youssef, to establish a R$ 31 million (US$ 11.9 million) partnership with the Ministry to produce medication. The partnership was interrupted after the case was unveiled and before any payment was done to Labogen.
April 1
Folha disclosed former vice-president of the Chamber of Deputies, André Vargas (PT-PR), borrowed a private jet from Youssef to fly his family on a vacation trip. At the time, Vargas claimed to have paid for the fuel.
April 2
In a speech in the plenary Chamber, Vargas changed his original version and said he tried to pay for the service, but he found out the plane had been chartered and he would not be able to afford the cost of fuel.
April 3
A Federal Police investigation suggested the Labogen contract with the Ministry of Health was signed due to Vargas' influence. He is believed to have worked on Youssef's behalf. In the plenary Chamber, the deputy explained he only guided Youssef, as he "usually" does with whom brings "viable projects and in the public interest".
April 5
Folha obtained a Federal Police report showing that nine Petrobras suppliers had R$ 34.7 million (US$ 13.28) deposited into the account of a shell company controlled by Youssef. Some suppliers have contracts on Abreu e Lima refinery (Pernambuco).
April 5
"Veja" Magazine published a conversation between Vargas and Youssef intercepted by the Federal Police, in which the deputy says he will help the money dealer.
April 7
Claiming to be a victim of a "media massacre", Vargas asked for a temporary leave.
April 8
Folha disclosed that Jaraguá Equipamentos, one of the companies investigated in the Lava Jato Operation, donated R$ 4.5 million (US$ 1.7 million) to the Workers Party (PT) national directory between 2010 and 2012.
April 8
In another conversation intercepted by Federal Police, the Vargas demands Youssef pays his brother Milton. The Workers Party (PT) deputy said it was a payment for a provision of technology services.
April 9
Vargas resigned the vice presidency of the Chamber of Deputies. The Chamber of Deputies ethics committee requires his impeachment.
April 11
The Federal Police extended the investigation into Petrobras suspicious deals and searched its headquarters in Rio.
April 12
A spreadsheet was seized at Paulo Roberto Costa's house, suggesting the former director mediated money transfers from contractors to politicians.
April 14
Folha revealed that in 2010 the allied base received 79% of the donations made by the companies mentioned in the spreadsheet.
April 14
To avoid impeachment, Vargas announced that he will resign. He changes his mind two days later, after acknowledging his resignation would not interrupt the process conducted by the Chamber's ethics committee.
April 15
The Federal police indicted Costa, Youssef and other 44 involved in the Lava Jato Operation.
April 18
A spreadsheet seized at Alberto Youssef's office registered the transfer of R$ 31 million (US$ 11.9 million) from two consortiums to firms controlled by the money dealer.
April 23
Brazilian court accepted indictment against Youssef and other seven suspects in Operation Lava Jato.
April 25
Brazilian court accepted indictment against Paulo Roberto Costa on suspicion of misappropriations of resources of Abreu e Lima oil refinery (Pernambuco).
April 25
André Vargas left the Workers Party (PT) after being under pressure to resign.
May 5
A Federal Police investigation suggested Youssef also favoured federal deputy Luiz Argôlo (SDD-BA).
May 8
Brazilian court lifted bank secrecy of Petrobras transactions involving contracts with the Abreu e Lima oil refinery. There was suspicion of misappropriation of public funds. Paulo Roberto Costa's bank secrecy protection was also lifted.
May 14
After one-month license, Vargas returned to the Chamber of Deputies. The rumour is he needed the income.
May 14
Under allied base control, Petrobras CPI (Parliamentary Inquiry Commission) is installed in the Senate.
May 15
The chamber's ethics committee requires Luiz Argôlo (SDD-BA) impeachment.
May 19
Minister of Brazilian Federal Supreme Court, Teori Zavascki, decided to release Paulo Roberto Costa.
May 28
The opposition parties pressured the government to created a new Petrobras CPI with the participation of their deputies and senators.
June 10
Paulo Roberto Costa testified in the Senate's CPI and denied suspicions of corruption in the company: "I deny with vehemence that Petrobras was a criminal organization. It was not a business desk. There is no money laundering in Petrobras".
June 11
Court decrees the imprisonment of Paulo Roberto Costa as he kept secret accounts in Switzerland of R$ 23 million (US$ 8.8 million). Swiss authorities blocked the money.
June 14
According to documents seized by the Federal Police, some companies that hold contracts with Petrobras, as Sanko Sider and OAS, made deposits in a Switzerland bank account controlled by the money dealer Alberto Youssef.
June 28
The Federal Police investigated building contractors that transferred money to a shell company owned by Youssef. They suspect the money was used for kickbacks and from overcharged contracts with Abreu e Lima oil refinery.
July 3
Department of Justice sent to the Supreme Federal Court evidence found during Lava Kato Operation that link Youssef and senator Fernando Collor (PTB-AL), who allegedly received bribes from the money dealer.
July 15
Youssef was accused of helping deputy José Janene (PP-PR) - a defendant in the mensalão case killed in 2010 - to launder part of the resources Janene received from the scheme.
July 25
Youssef suffered a heart attack in prison and is taken to ICU.
August 9
Youssef's accountant Meire Poza testified the companies that paid for consulting services offered by his firms knew they were hiring a fraud. Poza also told the police that Luiz Argôlo (SDD-BA) is Youssef's informal partner.
August 22
Paulo Roberto Costa accepted a snitch deal after Federal Police search operations in his daughter's companies.
September 6
Paulo Roberto Costa testified in court that 12 senators, 49 federal deputies and at least one governor received embezzled money from the Petrobras. The former director of Petrobras accused politicians from three parties: PT, PMDB and PP. PT's treasurer, Joao Vaccari Neto, is on the list.
September 20
Paulo Roberto Costa testified the kickback scheme included other departments of the company.
September 23
Alberto Youssef decided to make a snitch deal in exchange of a shorter sentence.
September 25
Youssef gave his first statement.
October 1
As part of the snitch deal, Paulo Roberto Costa was released and returned to his home in Rio, where he shall serve a home sentence.
October 29
Chamber of Deputies ethics committee approved Luiz Argôlo (SDD-BA) impeachment.
Translated by JULIANA CALDERARI