Latest Photo Galleries
Signs of Tension
Published on 04/11/2016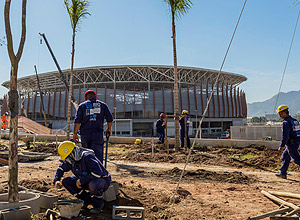 Rio: a City in Metamorphosis
Published on 11/19/2015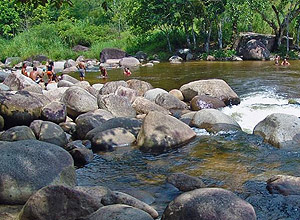 Crystal Unclear: A Future for Water Resources in Brazil
Brazilian Markets
17h32

Bovespa

-0,94%
101.838

16h43

Gold

0,00%
117

17h00

Dollar

+0,42%
5,6370

16h30

Euro

+0,49%
2,65250
Rousseff Cuts Preschool and Kindergarten Funding; Slots Were Campaign Promise
07/22/2015 - 14h03
FLÁVIA FOREQUE
FROM BRASÍLIA
Slots in kindergartens and pre-schools in the country, one of the Dilma Rousseff (PT) government's campaign promises, will be affected by budget cuts imposed by the Education Ministry.
Of the R $9.2 billion cuts on file, R$3.4 billion (37%) were allocated for the construction of early childhood education units, in addition to athletic fields.
For directors, the measure will compromise mandatory enrollment for children 4 and 5 years starting in 2016, a legislative provision in place since 2009.
According to data from 2013 (the latest available), this age group has an attendance rate of 87.9%.
"How can we be a land of educators without funding?", asked Edelson Penaforth, Municipal Secretary of Education in Tonantins (AM) and president of Undime (an entity that joins municipal secretaries of education in the Northern region), referring to the federal government's slogan.
With a population of 18 million, the city requested resources for the construction of two kindergartens, but work on the projects has yet to begin.
"The absence of funds will definitely delay the fulfillment of goals [the inclusion of children]", says Eduardo Deschamps, president of Consed (National Council for Secretaries of Education).
UNIVERSITIES
The completion of projects in higher education will also be delayed. According to data obtained by Folha, there will be budget cuts of R $1.9 billion (US$591 million) at universities and federal institutions, a total of R $3.2 billion (US$996 million) for investments.
Projects with more than 70% completion will be prioritized to receive funding. As a result, at UFABC (Federal University of ABC), for example, the expansion of the São Bernardo campus was postponed until 2016.
Federal universities were also affected by cuts from Cape, a federal agency for research support. The budget cuts decreased resources for activities and postgraduate fellowships.
At UnB (University of Brasília), funding dropped from R$ 4 million (US$ 1.2 million) to R$ 1 million (US$313,000) , according to César Tibúrcio, dean of planning and budgets at the university.
"As a result, many master's and doctorate consultations are occurring on Skype or similar channels", he said.
One of the main goals of Rousseff's reelection campaign last year, Pronatec (technical and professional education program) was also affected by the government's fiscal adjustment.
The reduction from 3 million vacancies to 1 million in the program represented savings of almost R$ 400 million (US$124 million).
The cuts also struck amendments to budgets designated by representatives and senators for education, and the National Literacy Assessment, to be held by Inep (institute linked to MEC) was canceled, according to a statement published in the newspaper "O Estado de S. Paulo".
THE OTHER SIDE
The Ministry of Education affirmed that resources for kindergarten, school and field projects already in progress are guaranteed. "New projects will be reshaped", he said.
The ministry emphasizes that the adjustments made by the federal government "preserve essential and structuring programs and actions" in education, honoring the motto of president Dilma Rousseff's second term.
Therefore, programs such as Pronatec and Ciência sem Fronteiras (Science without Borders) "are guaranteed for this year", but there will also be a "reshaping of the offer".
According to Capes, more than 14 thousand "Ciência sem Fronteiras" fellows, selected in the 2014 notice, will go abroad this semester.
The group still belongs to the original goal of the program, to provide 101 thousand fellowships.
"Only after these students are at their target institutions will the new phases of the program be determined", Capes shared. Rousseff's second term promised to send more than 100 thousand abroad.
Inep says that the cancellation of the literacy assessment was decided upon based on "pedagogical issues", given that this year it will be possible to compare results obtained in 2014 and 2013. In 2016, use of the test will resume.
Translated by SUGHEY RAMIREZ