Latest Photo Galleries
Signs of Tension
Published on 04/11/2016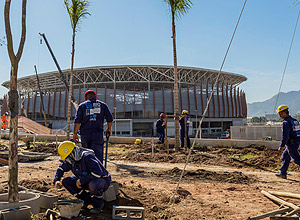 Rio: a City in Metamorphosis
Published on 11/19/2015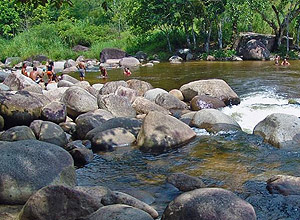 Crystal Unclear: A Future for Water Resources in Brazil
Brazilian Markets
12h47

Bovespa

-0,60%
113.950

16h43

Gold

0,00%
117

13h07

Dollar

+1,17%
5,5180

16h30

Euro

+0,49%
2,65250
Nine People Are Killed by the Police in Brazil Every Day
10/28/2016 - 12h27
FERNANDA MENA
JULIANA GRAGNANI
FROM SÃO PAULO
Every day, at least nine people are killed as a result of police interventions in Brazil. And at least one police officer is killed – on or off duty.
The figures are in the 10th Public Security Yearbook, which is produced by the Brazilian Forum for Public Security, an NGO comprised of specialists in the sector - the yearbook was based on 2015 data.
The report shows that, as police officers try to fight violence, the Brazilian government has been collaborating to the increase of the already recording-breaking number of murders in the country.
That is because, between 2014 and 2015, despite the small 1.2% decline (from 59,086 to 58,383) in the total violent deaths in the country - which was seen as an indication that the figures were becoming stable - the number of people killed as a result of police actions hiked 6.3% to 3,345.
On the other hand, the number of police officers murdered fell 3.9%: in 2015, 393 officers were killed.
"We don't have a government policy to fight violence," says sociologist Samira Bueno, the executive director of the Brazilian Forum for Public Security.
Renato Sérgio de Lima, also a sociologist and the CEO of the NGO, believes that "Brazil must discuss the model for the use of police force."
Tânia Pinc, an army reserve major of the São Paulo Police Department, says that "the speeches of the Executive and Judicial branches encourage lethal and abusive actions by the police because they suggest that police officers are expected to kill criminals."
State representative Álvaro Camilo (PSD), a former commander of the São Paulo Police Department, says that "the rise in the feeling of impunity made criminal offenders more daring, which in turn, led to an increase in confrontations with the police and the number of people killed."
POLICE OFFICERS KILLED
Data of the Public Security Yearbook show that police officers die three times more when they are not working than when they are on duty.
Specialists on the subject say that this occurs due to various factors: the so-called gigs, the authorization to carry guns and the alleged involvement in criminal activities.
VIOLENT DEATHS
The intentional violent deaths showed the highest growth rate in the state of Rio Grande do Norte: 39.1%. A total of 48.6 people in every 100,000 residents were killed in 2015. This number is only below that of the states of Sergipe (57.3) and Alagoas (50.8).
Bueno believes that the explanation is the improvement in the recording of information and the new violence wave that has hit Rio Grande do Norte - the government even declared a state of public emergency.
Translated by THOMAS MUELLO