Latest Photo Galleries
Signs of Tension
Published on 04/11/2016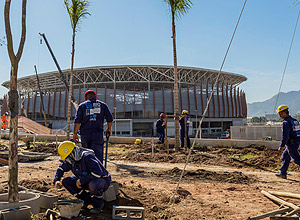 Rio: a City in Metamorphosis
Published on 11/19/2015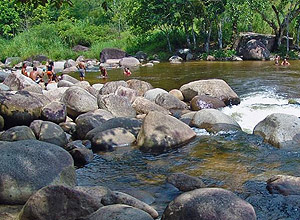 Crystal Unclear: A Future for Water Resources in Brazil
Brazilian Markets
10h54

Bovespa

-0,26%
96.294

16h43

Gold

0,00%
117

10h54

Dollar

-0,27%
3,9450

16h30

Euro

+0,49%
2,65250
Temer Reforms Put at Risk by Fresh Scandals
12/01/2016 - 13h14
JOE LEAHY
"FINANCIAL TIMES"
Brazilian opposition politicians will call for the impeachment of President Michel Temer as scandals engulf a six-month-old administration already struggling to push through reforms and revive the economy.
Mr Temer has lost an average of a minister a month since taking power. Two ministers resigned last week amid allegations that the president used his influence to help an ally's property deal.
"Now we are facing a crime of responsibility without any room for doubt," said Ivan Valente, the leader in Congress of the Socialism and Liberty party, which is set to call for his impeachment. Mr Temer denies any wrongdoing.
The impeachment request from a minor opposition party is unlikely to gain traction for now, analysts say. But the controversies come at a time when Mr Temer's government is being tested on whether it can deliver on promises to rescue Brazil's economy.
Brought to power by the impeachment of Dilma Rousseff - convicted of manipulating the budget - Mr Temer has sought to counter his lack of a popular mandate and poor showing in opinion polls by promising reforms. These include a freeze on real increases in the federal budget and an overhaul of Brazil's pension system.
Until now, his government has received a vote of confidence from markets. The real strengthened by more than 20 per cent against the dollar this year before surrendering part of these gains following the US election.
But doubts are growing that the economy may not be recovering as fast as expected. "Real GDP is likely to have contracted again during the third quarter [the pace of contraction may have intensified from the second quarter]," wrote Alberto Ramos, economist with Goldman Sachs.
The government last week downgraded its own GDP forecasts for next year from 1.6 per cent growth to 1 per cent. Some progress has been made: the bill to limit real increases in budget spending is expected to receive final approval in mid-December
But political controversies threaten to derail this progress. Among these is a bill being fast-tracked by Congress that its critics say would in effect grant an amnesty for politicians found guilty of amassing illegal campaign donations.
Added to this is last week's scandal that led to the resignation of the culture minister, Marcelo Calero, and Geddel Vieira Lima, the intermediary between the administration and Congress.
Analysts doubt that the controversy on its own would sink Mr Temer or his reform programme.
But Eurasia Group, a political risk consultancy, said the president was in for a "firestorm" and a period of increased instability. "It does add fuel to the fire for what is looking to be a very difficult 2017 in which Temer's government will remain unpopular," said Eurasia's Chris Garman.
Copyright The Financial Times Limited 2016