Latest Photo Galleries
Signs of Tension
Published on 04/11/2016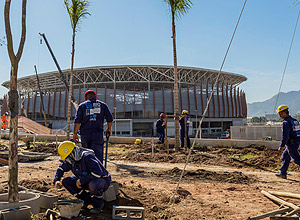 Rio: a City in Metamorphosis
Published on 11/19/2015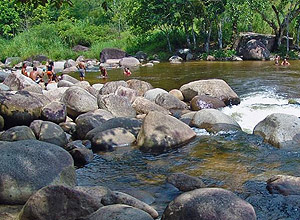 Crystal Unclear: A Future for Water Resources in Brazil
Brazilian Markets
17h35

Bovespa

-1,33%
106.296

16h43

Gold

0,00%
117

17h00

Dollar

-0,74%
5,6250

16h30

Euro

+0,49%
2,65250
Heiress of Swiss Bank Donates R$ 500,000 to Lula After Moro Froze His Accounts
08/11/2017 - 15h33
ELIANE TRINDADE
FROM SÃO PAULO
If Luiz Inácio Lula da Silva is considered the father of the Bolsa Família program, then she would like to be considered the mother of the "Lula Grant".
Roberta Luchsinger, 32, the heir of Credit Suisse, a bank which her family founded, decided to launch a campaign offering financial aid to the former president after judge Sérgio Moro ordered to freeze approximately R$ 10 million (US$ 3.16 million) from Lula's bank account and retirement fund.
The granddaughter of Peter Paul Arnold Luchsinger took from her own pocket, closet and safe in order to make a personal donation of approximately R$ 500,000 (US$ 150,000) to Lula in the form of cash, jewelry and other valuable personal objects.
"By freezing Lula's accounts, Moro is attempting to delegitimize him from both a political and personal perspective. I am making a donation which the president can use as he pleases", said Ms. Luchsinger.
She took out a check in the amount of 28,000 swiss francs (US$ 28,700) from her Hermés purse, which her grandfather, who died on July 8th at the age of 92, gave her as allowance.
"This was the last check he ever gave me and I am going to give it to Lula. Operation Car Wash [Lava Jato] prosecutors can now say that they found the Swiss bank account they claimed Lula had, but could never locate", Ms. Luchsinger said sarcastically.
The billionaire heiress filled a Rimowa briefcase with valuable personal objects that the former president will be allowed to use to raise money.
"These are items that can be auctioned off to raise money for the former president", Ms. Luchsinger proposed.
POLITICAL CAREER
Ms. Luchsinger, whose list of contacts includes politicians across the political spectrum, is planning on running as a state congresswoman in the 2018 elections for the PCdoB (Brazilian Communist Party).
She joined the party after marrying Protógenes Queiroz in 2009. The former congressman who is in political exile in Switzerland, avoiding a warrant for his arrest after breaching confidentiality in the Satiagraha operation.
"Roberta has a strong personality, she's progressive and she has an atypical social background for our party. We are looking to renovate the party at this moment, and bring good people into politics, so she is more than welcome", said Walter Sorrentino, the PCdoB vice-president.
MASSIVE FORTUNES
Ms. Luchsinger doesn't consider her sophisticated lifestyle incompatible with her calls for an egalitarian society free of social classes, which communists have historically defended.
"I am absolutely against taking money away from the poor when we should be taxing those who are wealthier."
Ms. Luchsinger, who gave Lula her condolences at the funeral of former first lady Marisa Letícia, says that she continues to support Lula because he shuttles between workers and businessmen alike. "I like that. I'm also like that".
ON THE ROAD
The granddaughter of the bank tycoon said that, if invited, she would gladly join Lula's campaign trail and travel the country.
In order to prove that she is willing to walk the walk, Ms. Luchsinger said that she would be willing to include a 2015 bulletproof Volvo XC 60 in her financial aid package, evaluated at R$ 150,000 (US$ 47,500). "This wealthy girl's van can replace the old pick-up truck that Moro confiscated from Lula", she said playfully.
The former president, who has been sentenced by a first instance court to 9 years and 6 months in prison for corruption charges and money laundering following an investigation into the acquisition of a beachfront triplex in Guarujá, may not be eligible to run for president in 2018.
Translated by THOMAS MATHEWSON
Read the article in the original language
Adriano Vizoni/Folhapress
Roberta Luchsinger, 32, heiress of bank Credit Suisse, donated R$ 500,000 to ex president Lula