Latest Photo Galleries
Signs of Tension
Published on 04/11/2016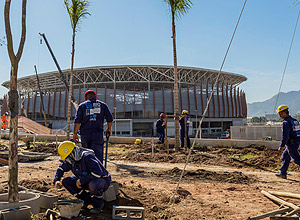 Rio: a City in Metamorphosis
Published on 11/19/2015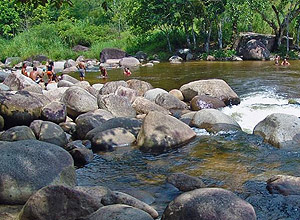 Crystal Unclear: A Future for Water Resources in Brazil
Brazilian Markets
18h16

Bovespa

+0,80%
70.641

16h43

Gold

0,00%
117

17h00

Dollar

+0,58%
3,7840

16h30

Euro

+0,49%
2,65250
A Pilot in the Microcredit Rally Race
11/07/2017 - 02h00
ELIANE TRINDADE
SPECIAL CORRESPONDENT REPORTING FROM MARACANAÚ (CEARÁ)
It's the end of the afternoon in Maracanaú, a municipality in the metropolitan area of Fortaleza. Bernardo Bonjean, 40, twists the handle on Bacora in order to get to the neighboring town of Pacatuba (Ceará). "Bacora" was the nickname given to a Honda 125 motorcycle: the faithful companion of Mr. Bonjean's employee, credit agent Pedro Rodrigues, 26.
As a pilot who competed in the 450cc editions of the Rally of the Sertões between the years of 2003 to 2012, he crossed the Agreste, a wild region in Brazil's Northeast, seven times on a powerful KTM bike.
Five years after his last race, the moto-racing aficionado returned to the region, but this time he was piloting Avante, a social business that offers microcredit and banking services to those at the bottom of the social pyramid at charitable rates.
"A while ago, I'd pass through here, racing at high speeds. Now, I visit my credit agent as well as my clients at their homes", he remarked.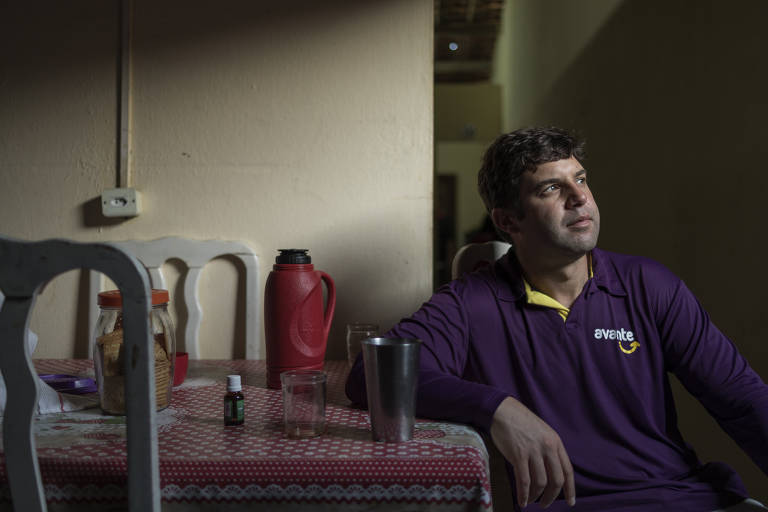 This time around, the administrator from Rio de Janeiro, who once had a successful career in the stock market, is giving a ride to Pedro: one of 150 credit agents at Fintech. The company was founded in 2012 and has carried out over 50,000 microcredit loans throughout the entire country.
The credit agent from Ceará not only gave his boss a tour of the landscape, but he also offered to put him up after reading a Facebook post where Mr. Bonjean expressed his desire to explore the backwoods of Brazil.
"It's as if every time I visit a small businessman, I get slapped in the face. They are the true entrepreneurs of Brazil", Bonjean said. "I had the entire world in the palm of my hand, I attended the best schools and I worked at incredible companies, but I learn so much more from them".
The owner of Avante wound up spending a week in the working class neighborhood of Jereissati 2 back in January of this year, when Pedro, and five of his family members put up Bonjean in their two-bedroom apartment, which also has a kitchen and a bathroom.
Pedro's hospitality was paid off six months later, when he spent a week at his boss's home, in the sophisticated neighborhood of Jardim América, in São Paulo. "I played with Bernardo's children, we played golf at the sports club he frequents and we watched a play at the Municipal Theatre", the employee said.
"It was an enriching experience for the family. It was a form of showing our children that we're all equal and that we can learn from others, no matter their social class or background", said Graziela Pinto, 40, who has been married to Bonjean for 10 years. They have two children: Joaquim, 6, and Caetano, 2.
STOCK MARKET
His adventurous spirit, combined with his ambition and his desire for a meaningful life, led Bonjean to leave behind a successful career in the stock market - where he worked for important companies such as bank Pactual and XP Investimentos - in order to found a company with a social message.
"The trading desk is a cowardly thing. In a single minute, you can bet in favor of Brazil and against it. I made a lot of money betting against the country, and there came a point where I felt this emptiness", Bonjean said. "Today, I'm betting on micro-entrepreneurs in order to unleash a dormant force in this country."
Mr. Bonjean started changing his life philosophy not only by racing on legendary racetracks, such as the Dakar rally, but especially when he started frequenting spiritual retreats in India. Ten years ago, he got married at The Art of Living, an ashram in Bangalore. "The spiritual retreats helped me connect my soul to my heart."
The company's spiritual outlook, along with its concern for people, is encompassed by a department called the "Heart Quarter", in which both the brain and the heart call the shots. The department is run by Rajshree Patel, an Indian guru and motivational speaker.
Things really coalesced when Bonjean decided to enroll in a leadership course at Harvard, which he attended from 2011 to 2013. "I became a social entrepreneur through experiences that led me to bring people, purpose and performance together." The "three Ps" are at the core of Avante's business model.
The crucial insight came during a class at Harvard, when his professor asked him the following question: "When your son turns 15, what would you like to be able to tell him?".
Though he still has another 10 years to go before relaying his legacy to his children, Mr. Bonjean currently has a partial answer on the tip of his tongue: "I want to tell my children that I stayed in Brazil in order to support the micro-entrepreneurs who pull the levers of the country's most important sector".
By 2020, the reincarnated Bonjean would like to positively impact over one million micro-entrepreneurs in the remote pockets of Brazil. In order to achieve this goal, he is counting on technology and a red-tape-free system in order to offer credit and sales solutions to a client base that can't rely on big banks and credit institutions.
THE BANANA VENDOR
It's people like banana vendor Esiel Almeida, 53, that Avante helps out. Mr. Bonjean met Esiel while on a trip to Aldeias Altas, Maranhão, back in August. The encounter enabled him to tell the story of a "Brazilian super hero" to his son upon returning to São Paulo.
Bonjean showed his elder son a picture of the vendor from Maranhão pushing an iron cart in order to sell bananas to people in the region. "This was the plane he rode around to buy land for R$ 100,000 [US$ 31,250] in order to plant more bananas", he embellished, as he told his son of the adventures and misadventures of the part-vendor, part-farmer who took out a R$ 6,000 loan (approximately US$ 1900) from Avante, a loan which was renewed on two other occasions.
The moral of the story was: "Esiel's key to success was that he stayed away from alcohol, didn't depend on the government, valued his family and his clients and he kept his word".
Such teachings were handed down by an illiterate citizen who used his thumb to sign his borrowing contracts and payed his loans on time. The only time he missed a payment was when he had to help out his son who got involved in a motorcycle accident.
"These are the stories of dreamers, the little ants that keep Brazil moving and share Avante's dream", the entrepreneur's wife summarized.
Mr. Bonjean goes to bed knowing that, by lending Brazilians microcredit, he is not only helping them plant and harvest their dreams, but enabling them to envisage a better future in the long-distance rally against inequality and recurring recessions.
Translated by THOMAS MATHEWSON