Latest Photo Galleries
Signs of Tension
Published on 04/11/2016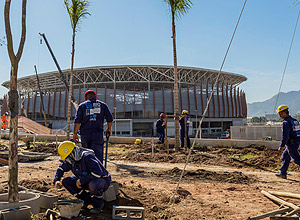 Rio: a City in Metamorphosis
Published on 11/19/2015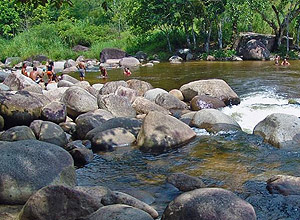 Crystal Unclear: A Future for Water Resources in Brazil
Brazilian Markets
18h20

Bovespa

-2,84%
70.075

16h43

Gold

0,00%
117

17h00

Dollar

-0,44%
3,7620

16h30

Euro

+0,49%
2,65250
The Prison Calling
11/07/2017 - 02h00
FERNANDA MENA
SPECIAL CORRESPONDENT REPORTING FROM SÃO JOÃO DEL REI (MINAS GERAIS) AND TIMON (MARANHÃO)
It's an August afternoon in Timon, the countryside of Maranhão, and the thermometers are hitting 35ºC. Regardless of the heat, 50 men, who were convicted of crimes such as murder, theft, rape and drug trafficking, sing an anthem at the top of their lungs.
"Get these handcuffs out of your mind, raise your head and move on. Unlike before, I feel like a human, capable of learning and loving. Keep an open mind and pay attention to these lyrics. At Apac I had my last chance. I am in recovery."
The chants are a form of celebrating the distribution of diplomas that the inmates were given after completing vocational courses offered by the Association for the Protection and Assistance of the Convicted (Apac), where sentences are carried out in the form of a strict routine that involves lectures, courses and labor.
The facility does not rely on guns, police officers or guards, and it's the inmates themselves, who are referred to as "recoverees", that hold the keys to their own cells.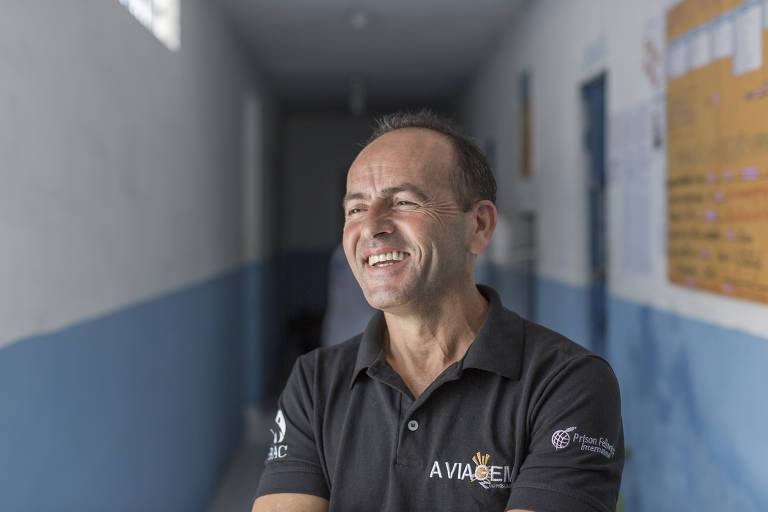 A supervisory judge, a prosecutor and the city's public defenders are all clapping in rhythm with the music, seated next to the choir alongside Valdeci Ferreira, 54, the man behind it all.
33 years ago, Mr. Ferreira decided that his life's purpose was the rehabilitation of criminals. His dedication, which he attributes to a higher calling, made the number of Apacs leap from one to 48 units, spread out in five Brazilian states and accommodating approximately 3,500 convicts.
The units are coordinated by the Federation of the Apacs (Fbac), an entity he created in order to keep tabs on an innovative methodology designed to make the prison system more humane.
During the ceremony in Timon, Mr. Ferreira's glistening eyes demonstrate a keen interest in the 11 men who, in a state of considerable perplexity, are seated in the last row of the crowded room.
They had just been transferred from the local prison.
Hours earlier, they were stuck in crowded and insufferable cells, where idleness, drugs, tension and hostility between opposing gangs were predominant.
It was precisely this perverse combination that led the state of Maranhão to shock the country back in 2013, when 62 inmates were brutally murdered in a prison in Pedrinhas (MA), many of whom were decapitated. The episode, which gained international attention, was just the prelude to a series of other barbaric acts and crises within the Brazilian penitentiary system: the 4th largest in the world.
"The prisons are deserts of misery and suffering. The government is absent and so the gangs occupy their place. Society, which was harmed by these people, forgets that those who are abandoned behind bars will one day be reinserted into society, but by the time they return they will have transformed into something much worse", Mr. Ferreira warned.
The Apacs are small sanctuaries. "We apply the pedagogy of being present and we walk side by side with those who committed offenses, offering them a chance to change their lifestyles", he explained from behind the bars that are also used to hang plants.
THE CALLING
The sensation that arises when new 'recoverees' arrive always takes the Fbac president back to the first time he ever set foot in a prison.
Raised in a religious family and surrounded by the social literature of the Catholic church, Mr. Ferreira was 21 years old and living in Itaúnas (Minas Gerais) when he managed to find a job as a metalworker in order to help his parents build their own home.
In his spare time, he would write plays which he would then present in asylums, shelters and hospitals. It was during one of those presentations that he was invited by a Christian youth group to visit the local prison.
"It was a dark place, with a pungent smell. There was no courtyard for sunbathing, and the inmates remained behind bars, so they couldn't hug their family members during visitation hours", Mr. Ferreira recalled.
The dark cells gradually started revealing the beardless inmates, whose faces looked just like his. "But theirs were disfigured, sad and hopeless. People whose lives were rotting. It had a profound impact on me."
The following morning, while feeling a combination of discomfort and helplessness, Mr. Ferreira randomly opened his bible, which he did customarily, in order to find out what the message of the day would be. He came upon Matthew 25:36, which read: "I was in prison and you came to visit me". The following day he came upon Hebrews 13:3: "Continue to remember those in prison as if you were together with them". Passages and references about prisoners and prisons also came up the following day, and then the day after that.
"I thought I was going crazy. Or was God reaching out to me? I said: 'God, there's no way I can take on this challenge'".
He decided to go to the priest to address his angst. "We opened the bible together and we came upon Matthew 25:43, which read: 'I was sick and in prison and you did not visit me'. That's when it dawned on me that it was a higher calling. Since then, I haven't done anything but take care of prisoners."
RESISTANCE
No matter where he turned, Mr. Ferreira encountered resistance to his work with convicts, including from his own family. Traumatized by the sexual violence one of his sisters faced when she was six years old, his parents could not accept the notion of working at a prison.
"One image from childhood that stood out was my dad running around town with a club in his hand, hunting down the person who had hurt my sister", he recalled.
Over the years, he received a series of death threats and responded to 17 lawsuits brought forward by the Prosecutor's Office in Minas Gerais, questioning his approach in favor of convicts. "I became a lawyer in order to fend off these persecutions", he stated. "There were all sorts of reasons to give up. But nothing shook my core belief in the recovery that human beings can attain."
SURRENDER
There are plenty of corroborating witnesses. Daniel Luiz is one of many poster children for the twelve-step program.
Formerly a gang leader from São João del Rei, Minas Gerais, Daniel Luiz responded to 27 charges and was sentenced to 37 years of prison for homicide and bank robberies. "I am aware of the crimes I have committed and the lives that I have taken: lives that I can't bring back. So the next best thing was to become a father, a worker and a taxpayer", he said. "Apac's structure and program gave me that opportunity."
Daniel is currently an inspector at Fbac, and he escorted his boss to Italy - one of 30 trips that Mr. Ferreira took abroad in order to present to others the work that he does. "The world would like to know what the inner workings [of Apac] look like."
The lack of rebellions, violence and death, the reduction in prison escapes and the cost per prisoner as well as the lowering of recidivism rates from 85% (the average rate in common prisons) to 20%, have turned the program into a Brazilian export.
Currently, there are Apacs in 23 countries spread across the Americas, Europe and Asia, and rare are the months when Mr. Ferreira doesn't host a single foreign delegation.
But in terms of international prestige, nothing beats the fact that he was received by Pope Francis, offering His Holiness a gift that his recoverees made. "It was very moving."
Through firm gestures and a passionate gaze, Mr. Ferreira lightheartedly and playfully recalled feeling love at first sight when he became acquainted with the first Apac in São José dos Campos (SP), founded in 1972 by the lawyer Mário Ottoboni, 74. The unit in São José no longer exists.
The cost of personally surrendering to this philosophy and becoming one of its disciples was not slight. "From then on, I'd never had a formal job again, and I will most likely spend the last of my days at some asylum. My assets are the same as 33 years ago. And I have spent more time with convicts then with my own parents and brothers", said the social entrepreneur who created a sort of "humane prison" franchise.
"That's why I gave up on the idea of having my own family and having my own biological children", he said, on the verge of tears. "But there are several merits to my mission: when we help bring someone to their feet, we are, and will always be the great beneficiaries." And on that afternoon in Maranhão, some of Mr. Ferreira's many prodigal sons performed the biblical parable that best represents his struggle.
Translated by THOMAS MATHEWSON