Latest Photo Galleries
Signs of Tension
Published on 04/11/2016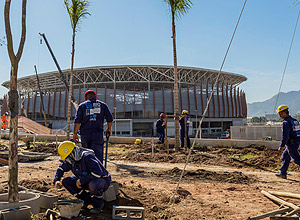 Rio: a City in Metamorphosis
Published on 11/19/2015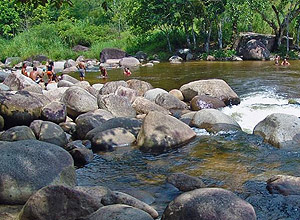 Crystal Unclear: A Future for Water Resources in Brazil
Brazilian Markets
18h20

Bovespa

-2,84%
70.075

16h43

Gold

0,00%
117

17h00

Dollar

-0,44%
3,7620

16h30

Euro

+0,49%
2,65250
Rio's Born-Again Bandits Prey On Rivals
11/03/2017 - 09h56
ANDRES SCHIPANI
JOE LEAHY
"FINANCIAL TIMES"
On the periphery of Rio de Janeiro, in a community hall filled with religious idols, seashells and traditional earthen pots, a crisis meeting of an unusual kind is taking place.
At the gathering areumbanda and candomblé priests and priestesses, whose faith is a blend of African traditions, Catholicism and spiritism.
They want to discuss the rise in violent attacks by narcotics gangs claiming to be Christians, the so-called drug traffickers of Jesus.
These bandidos evangélicos - evangelical bandits - as the born-again Christian gangsters are known, want to drive out "demonic" traditional religions from the favelas, or slums, in Rio's sprawling hinterlands.
"They enter and destroy and set fire to the place," said Vania Santana, a Candomblé priestess at the meeting in Baixada Fluminense. "In Rio de Janeiro, there is a very clear association: armed gangs who denominate themselves as evangelicals. This is a new issue that is endangering the very structure of Brazil's democracy."
Such attacks are increasing at an alarming rate. A government emergency hotline reported that calls related to religious intolerance and aggression, virtually all of them against Afro-American religions, were up 40 per cent this year compared with the same period last year, and up 119 per cent in 2016 against 2015.
The spike in violence directed against followers of these religions coincides with a significant increase in reported racially motivated attacks as well, explains Robert Muggah, research director of the Igarapé Institute in Rio, a think-tank on security issues, who said that between January 2016 and May 2017 there were 1,928 cases, compared with 1,511 in 2016 and 1,054 in 2015.
"The latest wave of religious-inspired violence can be traced to the turn toward evangelicalism in many parts of Rio de Janeiro, especially low-income settings such as favelas," he said.
Mr Muggah added that some local religious leaders frequently talk of the "spiritual battle" and often direct their fire at the most vulnerable - followers of candomblé.
By converting criminals in the country's prisons to evangelism, analysts say that pastors are in effect producing frontline troops for the fight against other religions.
"There are frequently reports of evangelicised traffickers prohibiting macumba [a traditional religion] in areas under their control. People caught wearing the clothes or totems of candomblé are frequently expelled, forcing many to go underground. Candomblé followers are being forced to destroy their material and leave," said Mr Muggah.
While they are seen as the work of extremists, these attacks highlight the strength and prevalence of the evangelical church, now one of the country's biggest religions. In the densely populated and electorally important favelas, they are also seen as having a growing political dimension.
The attacks come as the evangelical churches are positioning themselves to be kingmakers in elections next year. The evangelical bloc in Congress, which includes lawmakers from virtually every party, is one of the biggest in the national parliament.
"The evangelicals in Brazil comprised 1 per cent of the population in the sixties. Today we are 25-27 per cent, a contingent of more than 50m people," said evangelical congressman Roberto de Lucena, a pastor.
The more conservative evangelical members of Congress regularly lobby against abortion and homosexuality. Their latest push is for a law dubbed the cura gay, or "gay cure", by the media.
This would provide legal sanction for psychologists to "treat" homosexuals. In a victory for the bloc last year, one of their more conservative members, Marcelo Crivella, was elected mayor of Rio.
Campaign finance and other reforms are also set to favour the evangelical bloc. A ban on corporate donations will favour churches, whose millions of followers donate money at the urging of their pastors.
Congress this month set up a public fund of about R$1.7bn ($519m) to help make up for the loss of corporate money but this still represents an 80 per cent drop compared with funding in the last election in 2014, according to Eurasia Group.
Still, others point out the churches are far from a cohesive force. Evangelical churches range from the ultra-conservative to the pro-gay Christian Contemporary Church and even the "Crash Church", which plays heavy metal.
Mr Lucena denied any links between the evangelicals and the attacks on Afro-Brazilian religions. "I cannot see a connection between a drug trafficker and the evangelical faith," he said.
"When that person gets close to the evangelical faith and reaches the evangelical faith you won't see an evangelical entering terreiros, mosques, synagogues or any sacred site of any other religion acting with disrespect."
Still, at the meeting in Baixada Fluminense, Odjé Mansedú, a priest, says he sees the attacks as an attempt by the churches to strengthen their political hold. "I don't understand why the police call this intolerance. This, in truth, is terrorism. When you scare people, when you kill, when you burn a place, that is terrorism."
Copyright The Financial Times Limited 2017