Latest Photo Galleries
Signs of Tension
Published on 04/11/2016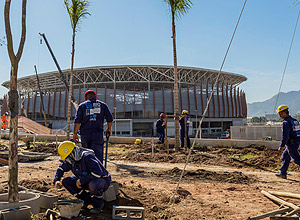 Rio: a City in Metamorphosis
Published on 11/19/2015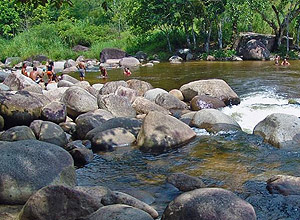 Crystal Unclear: A Future for Water Resources in Brazil
Brazilian Markets
18h19

Bovespa

-1,33%
69.815

16h43

Gold

0,00%
117

17h00

Dollar

+0,29%
3,7410

16h30

Euro

+0,49%
2,65250
Rio Governor Admits to Corruption Within Police Force, but Criticizes 'Conjectures'
11/03/2017 - 10h57
LUIZA FRANCO
FROM RIO DE JANEIRO
THIAGO RESENDE
FOLHA CONTRIBUTOR, FROM PISTOIA (ITALY)
After vehemently repudiating statements made by Justice Minister Torquato Jardim regarding corruption within the police force and negligence from public authorities regarding crime in Rio de Janeiro, politicians from the state have lowered the tone of their criticism on Thursday (the 2nd).
Both Rio governor Luiz Fernando Pezão (PMDB) and the president of the lower house of Congress, Rodrigo Maia (DEM), said that they did not think the minister was lying, but requested that he put forward evidence to back his accusations.
In an interview with blogger Josias de Souza, Mr. Jardim said that the public security system of Rio is not overseen by the authorities, rather, it is the result of a deal between congressmen in the state senate and organized crime, whose "partners" include police commanders.
Pezão, in turn, will request that the minister clarify before the courts whether or not he stands by the claims he made in his interview with the blogger.
Up until July of this year, Rio's Military Justice Department filed 149 lawsuits against police officers and firefighters, suspected of committing crimes such as corruption, extortion and theft. In late June, officers of the São Gonçalo precinct were arrested for arms trafficking and providing bodyguard services to drug dealers.
In an interview, Pezão did not deny corruption within the police force, saying that he has punished agents for misconduct. According to him, the fact that he cuts crimes committed by officers "at the roots" has earned him criticism for being "harsh [when it comes to punishing agents]".
The president of Brazil's lower house of Congress, Rodrigo Maia (DEM-RJ), who is in Italy, said that he believes the statements made by the Justice Minister are true, but that he acted in an improper manner.
"That interview [in which Jardim made the accusations] may have been valid following a police operation, after months of investigations and the capture of those who undermined Rio's security measures", said Maia, who also believed that "leaking [the information] beforehand may have been disruptive".
Translated by THOMAS MATHEWSON
Read the article in the original language
José Lucena/Futura Press/Folhapress
Rio governor Luiz Fernando Pezão (PMDB)