Latest Photo Galleries
Signs of Tension
Published on 04/11/2016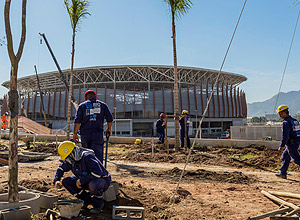 Rio: a City in Metamorphosis
Published on 11/19/2015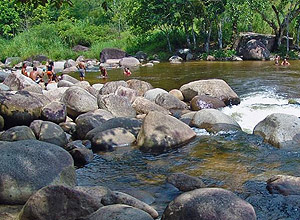 Crystal Unclear: A Future for Water Resources in Brazil
Brazilian Markets
18h14

Bovespa

-1,18%
97.761

16h43

Gold

0,00%
117

17h00

Dollar

+0,63%
5,3860

16h30

Euro

+0,49%
2,65250
'There Is International Interest in my Imprisonment', Says Former President of Eletronuclear
11/07/2017 - 09h13
MÔNICA BERGAMO
FOLHA COLUNMIST
Charged with receiving a bribe of R$ 4.5 million (US$ 1.4 million) from construction companies that were working at the Angra 3 complex, Othon Luiz Pinheiro da Silva, former president of Eletronuclear, was held for 2 years and has been sentenced to one of the longest prison terms in the so-called Lava Jato investigation: 43 years in prison for corruption, money laundering, tax evasion and racketeering.
In an interview with the Folha, the military officer, who is recovering from cancer, insists that he is innocent and said that his imprisonment was orchestrated under the auspices of "international interests".
Ricardo Borges/Folhapress
Othon Luiz Pinheiro da Silva, former president of Eletronuclear
The Federal Prosecutor General determined that the study you signed on behalf of Andrade Gutierrez was superficial and found it to be fictitious.
Either they didn't understand it at all or they didn't want to recognize [the importance of the study].
After you joined the government the work at Angra 3 was restarted.
In July [of 2005] I was aware that [the Lula government] had a list for selecting the president of Eletronuclear. I didn't want it. But I ended up making the stupidest mistake of my life. I was invited, and I succumbed to my vanity and I accepted it.
How did you end up receiving money from the construction company?
It was a coincidence that when I joined the government there was also a decision [to restart Angra 3]. The National Energy Policy Council, which I wasn't a part of, made the decision. But I ended earning it [the compensation] from the project [the study for Andrade Gutierrez] that I had already done.
I charged R$ 3 million (US$ 923 thousand) in 2004 [the Federal Police say that he received R$ 4.5 million (US$ 1.4 million) adjusted for inflation]. I started receiving it after the decision to restart. They said that "we will pay you through other companies". That became another crime.
Why is there international interest in your imprisonment?
Everything that I did [in the nuclear area] displeased someone. What is the biggest news story today? North Korea and its nuclear activities. The nuclear part creates rejection by the international community. And Brazil is an unpopular nuclear power. We could make a bomb out of plutonium like that of Nagasaki, or from uranium, like Hiroshima. We have both.
You have been charged with contributing to Electronuclear's loss in market value.
When I took over, it was referred to as the Firefly. In just a few years, it was considered one of the best in the world. The stock price soared. None of this was taken into consideration during my trial.
Translated by LLOYD HARDER