Latest Photo Galleries
Signs of Tension
Published on 04/11/2016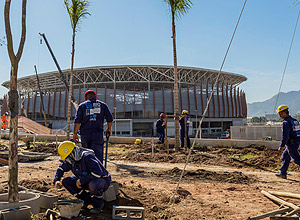 Rio: a City in Metamorphosis
Published on 11/19/2015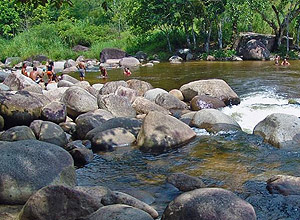 Crystal Unclear: A Future for Water Resources in Brazil
Brazilian Markets
18h17

Bovespa

-0,80%
116.437

16h43

Gold

0,00%
117

17h00

Dollar

-3,37%
5,3230

16h30

Euro

+0,49%
2,65250
Rightwing Advance - Brazilian Nationalist Raises Fears of Populist Presidency
11/13/2017 - 10h49
When rightwing nationalist lawmaker and presidential candidate Jair Messias Bolsonaro dedicated a vote last year to an army colonel notorious for brutality during Brazil's three-decade long military dictatorship, it sent shivers down the spines of many.
Carlos Alberto Brilhante Ustra, the former chief of national intelligence so admired by Mr Bolsonaro, was widely accused of the illegal arrest and torture of leftwing activists.
The colonel "was a hero", Mr Bolsonaro tells the Financial Times. "If I run the presidency, he will have a bust in the palace," the 62-year-old former army captain says. "There was no dictatorship in Brazil. People had liberty to come and go, go to Disneyland, come back with no problems. Dictatorship was for the bandits, vagrants, then the law was hard for them."
His praise for such a controversial figure alarms those who fear the populist politician - seen as a mix of US president Donald Trump and the Philippines' Rodrigo Duterte - could be elected president in polls due next October.
"It is an affront to the nation," says Adriano Diogo, a leftist politician, who in 1973 was dragged from his apartment in his underpants by soldiers under Brilhante Ustra's command and tortured for three months. "If he were elected president, suddenly Brazil would go back to this. It's a setback. I find it very dangerous."
But with Brazil slowly coming out of recession, beset by rising levels of violence and corruption, Mr Bolsonaro, seen as an outsider to the political establishment, could yet succeed.
Polls suggest he has between 13 and 17 per cent support, second only to former leftist president Luiz Inácio Lula da Silva, who may be removed from the race due to graft-related convictions.
Mr Bolsonaro denies he is a populist but has a string of controversial policies, including ending gun control in crime-ravaged Brazil. "Security is everyone's duty," he says. His comments suggest that if an armed criminal puts up a fight, he would take a relaxed approach to police brutality. "The police officer can shoot and if by chance the criminal comes to die, patience."
While he supports free markets, he has criticised the recent wave of Chinese investments in Brazil. "China is buying Brazil, not buying in Brazil," he says, though he admits to not knowing a thing about economics.
"Do I have to understand medicine to choose my health minister? My ministers will handle the economy, it won't be me and my generals will deal with defence, OK?"
Alan Marques - 29.jun.2011/Folhapress
Presidential candidate Jair Messias Bolsonaro
His contentious opinions have boosted his support on social media and raised the prospect of alliances with evangelical blocs. Although raised Catholic, he was baptised in the river Jordan by Brazilian pastor Everaldo Pereira, a former presidential candidate who shares his views that "marriage" can only be applied to a union between a "man and a woman".
Support for such views is growing in parts. In a recent survey by the Brazilian Forum on Public Security, 60 per cent of adults agreed with the statement that "most of our social issues would be solved if we could get rid of immoral people, delinquents and perverts".
Recommended
     Martin Wolf: Brazil's crisis creates an opportunity
     Brazil and the crisis of the liberal world order
     Markets Insight: Political risks fail to deter investors in Brazil
Maurício Santoro, a political scientist at Rio de Janeiro State University, says: "People sometimes treat Bolsonaro as a... joke and he is not. He has already become a very important politician.
"He is an extreme voice crying out that he is the solution to Brazil's problems, filling the void left by more traditional politicians."
Adolfo Sachsida, a trained economist aligned with classic liberalism who supports him, explains his appeal.
"Bolsonaro is not involved in any corruption scandal... Bolsonaro does not bend to the politically correct. Bolsonaro is pro-gun, and has already given clear signals that he intends to open the economy and shrink the state."
If Mr Sachsida becomes Mr Bolsonaro's adviser, Laura Carvalho, a columnist and economist at the University of São Paulo, feels the candidate will follow the line of Chile's late dictator, Augusto Pinochet with "maximum state when it comes to repression and minimum state when it comes to the economy".
Even so, Roberto Simon at FTI Consulting believes Mr Bolsonaro faces a tough battle. His one-man political party lacks the political machinery needed to secure victory and the exposure in traditional media. Less controversial candidates are also emerging, such as São Paulo's mayor, João Doria.
Yet many, such as Mr Diogo, remain anxious. "This is the fascist fabric that is weaving through Brazil," he says.
Mr Bolsonaro dismisses these comments as leftist scorn. "I am a normal person, the others are not normal... I am a soldier of Brazil.