Latest Photo Galleries
Signs of Tension
Published on 04/11/2016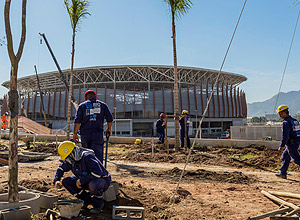 Rio: a City in Metamorphosis
Published on 11/19/2015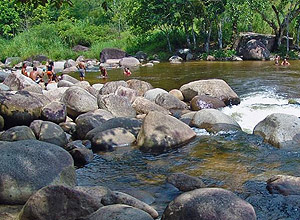 Crystal Unclear: A Future for Water Resources in Brazil
Brazilian Markets
17h20

Bovespa

+0,16%
77.487

16h43

Gold

0,00%
117

17h00

Dollar

+0,13%
3,8460

16h30

Euro

+0,49%
2,65250
Violent Deaths Decrease in State Capitals but Terrorize the Brazilian Countryside
11/21/2017 - 10h11
THIAGO AMÂNCIO
AVENER PRADO
SPECIAL ENVOYS TO CARUARU, PERNAMBUCO
Even though he was born there, knows the majority of the local people, and participates in a security council, social worker Felipe Sales, 26, avoids certain areas in his own neighborhood, Caruaru, in the Pernambuco badlands, one of the cities with the highest rates of violent deaths in Brazil.
Out of a group of 22 childhood friends that he grew up with, 19 have died or been incarcerated. In Caruaru, 134 km from Recife, the number of murders has exploded this year: there had been 242 as of the 17th of November, already surpassing the total number of 225 for all of last year, 2016.
The city is following a national trend that public security specialists have referred to as the "deurbanization of violence": the wave of murders has been moving out of state capitals, traditionally known for the violence in their outlying areas, towards smaller, but still populous municipalities.
In 2016, for example, the total number of violent deaths in the country, 61,158 according to the Brazilian Forum for Public Safety & Security, reached an all-time-record. The total includes malicious homicides, robberies, bodily injury followed by death and deaths resulting from police intervention.
In state capitals, however, the cumulative total has decreased by 3.5% compared to last year, while in the countryside murders have increased by 6% during the same period.
Last year, 14,491 murders were recorded in State Capitals, compared to 42,933 which took place in other cities in the States - these numbers don't include deaths resulting from police actions.
For sociologist Renato Sérgio de Lima, a member of the Forum's management team, this scenario reflects a greater investment in security in capital cities, due to the high levels of violence in the 1990's and 2000's, which didn't take place in the countryside.
In regions with organized crime, he said, gangs see more room for growth in smaller municipalities.
Translated by LLOYD HARDER