Latest Photo Galleries
Signs of Tension
Published on 04/11/2016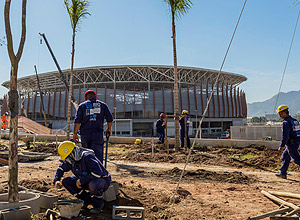 Rio: a City in Metamorphosis
Published on 11/19/2015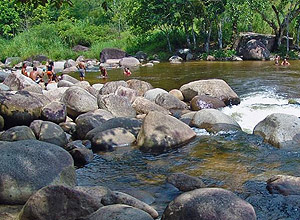 Crystal Unclear: A Future for Water Resources in Brazil
Brazilian Markets
17h33

Bovespa

+0,63%
107.537

16h43

Gold

0,00%
117

17h00

Dollar

-1,29%
5,6190

16h30

Euro

+0,49%
2,65250
Folha Decides to Stop Publishing Content on Facebook
02/08/2018 - 13h02
Folha has stopped publishing its content on Facebook on Thursday (the 8th). The newspaper's page will remain online, but it will not be updated with new posts.
The decision to do so reflects the outcome of internal debates on how to best deliver the newspaper's content to its readers, a concern that was outlined in Folha's latest Editorial Project, which was released last year.
The disadvantages of using Facebook as a means for distribution became even more apparent following a decision made by the social network to diminish the visibility of professional journalism on users' news feeds.
The network's algorithm has started to privilege personal content as opposed to the content distributed by companies, such as the content of professional newspapers.
This reinforces the trend in which users consume more and more content that reflects their own views, thus creating opinion bubbles that only favor their own convictions, not to mention the propagation of fake news.
Additionally, there is no guarantee that readers who are provided with a link containing a given accusation will also have access to a contrary position.
Such problems have been aggravated in recent years by the mass distribution of deliberately false information, or 'fake news', a factor in the 2016 US presidential election.
In light of its inability to adequately resolve the problem of separating professional journalistic content from non-professional journalistic content, the social network announced last month that it would be reducing the scope that media outlets and other pages have on the platform.
Instead of prioritizing content such as the content contained in this very link, the network started to prioritize content produced by friends and family members.
In Folha's case, the noticeable decrease in Facebook's significance as a distribution channel started becoming apparent prior to the changes that were implemented last month, a trend that was also observed by other outlets.
According to data that Folha compiled, in January, the total number of interactions (shares, comments and likes) that the ten biggest Brazilian newspapers obtained on Facebook decreased by 32% when compared to the results obtained in January of last year.
The decrease in terms of the reach that such pages have means that Facebook is losing space as a source for accessing newspaper websites.
According to Parse.ly, a company that does research on and analyzes digital audiences, Facebook's contribution to external accesses went from 39% in January of last year to 24% in December.
That gap is primarily being filled by search engines, such as Google, which, during the period in question increased its share from 34% to 45%.
Currently, Folha has 5.95 million followers on Facebook. It is the biggest Brazilian newspaper on the platform. A combined 2.2 million followers also like the pages that correspond to our individual sections.
The newspaper also has up-to-date profiles on Twitter (6.2 million followers), Instagram (727,000) and LinkedIn (726,000).
Readers can continue to share Folha content on their personal pages.
PAST RECORD
On an earlier occasion, Facebook tried to co-opt media outlets through its Instant Articles project. Outlets freely hand over their content to the social network, without being able to charge money for it, in exchange for quicker page loading speeds.
The only compensation Facebook offers concerns the purchasing of ad space on its platform. Folha never accepted these conditions, nor did it ever adhere to Instant Articles.
In Folha's latest Editorial Project, which is periodically used to reaffirm the paper's journalistic guidelines, the most problematic aspects of social networks were brought up.
"Social networks, which could ultimately be a space for social harmony and interaction, are programmed in such a way as to stimulate the sterile reiteration of pre-existing beliefs and habits", the project states.
"In contrast to this echo-chamber of self-referencing convictions, news outlets such as Folha must emphasize their belief in open-ended debates whereby various points of view are juxtaposed and the dialogue between different perspectives never ceases."
Translated by THOMAS MATHEWSON
Read the article in the original language
Folhapress