Latest Photo Galleries
Signs of Tension
Published on 04/11/2016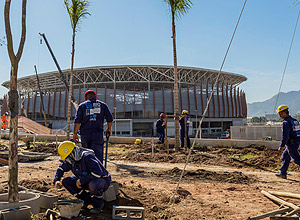 Rio: a City in Metamorphosis
Published on 11/19/2015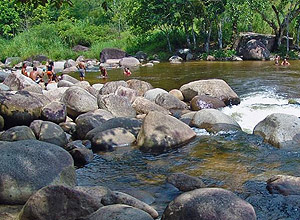 Crystal Unclear: A Future for Water Resources in Brazil
Brazilian Markets
17h32

Bovespa

+0,71%
107.005

16h43

Gold

0,00%
117

17h00

Dollar

-1,34%
4,9170

16h30

Euro

+0,49%
2,65250
Low Expectations Regarding Trial Outcome, Led Lula to Plan Every Step Leading Up to His Arrest
04/16/2018 - 08h10
DANIELA LIMA
MARINA DIAS
FROM SÃO PAULO
When the arrest warrant with Lula's name on it was issued, he was in one of the rooms of his own institute in São Paulo. He was talking to a PT congressman and his wife, who wanted to give him a hug. For a brief moment, they were completely unplugged and unaware of the news that was being disseminated throughout the country.
At that moment, a handful of Lula aides and three of the former president's allies were at the institute: former president Dilma Rousseff, senator and PT president Gleisi Hoffmann (PT-Paraná), and the former governor of Ceará, Cid Gomes (PDT-Ceará). They decided that they would wait for Lula's attorneys to arrive before breaking the news.
Among those who were in the building - which was where Lula had coordinated the Brazilian Left's main political strategies ever since he left the government back in 2010 - the last person to find out what had happened was the former president.
Gilmar Rose/Photo Premium/Folhapress
Former President Luiz Inacio Lula da Silva arrives at the Federal Police Department in Curitiba
It was former president Dilma who was given the task of interrupting Lula's pleasant conversation with the congressman. She entered the room without knocking and stood next to the couch where her mentor was seated. Then Gleisi Hoffmann arrived. They didn't even have to say a word: the former president stood up and accompanied them to another room, where one of his attorneys broke him the news.
Despite the fact that Lula's arrest was a sure thing, most people thought it would only take place a week later. Officials and party leaders rushed over to meet the former president and at least begin enacting the plan that Lula had devised in order to transform his arrest into a historic farewell.
Though the script had already been prepared, none of them thought that they would have to begin putting it in action on the night of April 5th, 2018 - a day that had already begun reeking of defeat. The biggest setback in the history of the Workers' Party (PT) had begun 24 hours earlier, when Supreme Court Justice Rosa Weber issued the vote that paved the way for Lula's arrest.
Translated by THOMAS MATHEWSON