Latest Photo Galleries
Signs of Tension
Published on 04/11/2016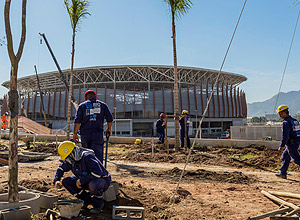 Rio: a City in Metamorphosis
Published on 11/19/2015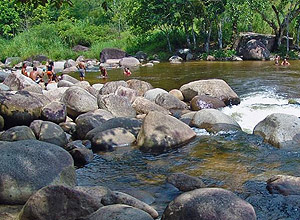 Crystal Unclear: A Future for Water Resources in Brazil
Brazilian Markets
18h19

Bovespa

-0,33%
76.819

16h43

Gold

0,00%
117

17h00

Dollar

+0,12%
3,9060

16h30

Euro

+0,49%
2,65250
Homeless Groups Are Making Use of High-Rise Buildings and Historic Houses throughout Brazil
05/07/2018 - 12h57
SÃO PAULO
RIO DE JANEIRO
BELO HORIZONTE
SALVADOR
Just like São Paulo - where the recent collapse of a building helped underscore the national housing deficit - several other state capitals are witnessing a situation where many of the members of Brazil's poorer classes have struggled to find a home to call their own.
Bringing the housing deficit to an end in the city of São Paulo would require building 358 thousand apartments or houses - an investment that would cost R$ 46 billion (US$ 13 billion). The amount of money in question, which was calculated by the mayor's office, is well out of reach and has raised questions concerning the city's current popular housing projects - which almost entirely depend on funding from both the state and federal governments in order to build homes from scratch or renovate existing ones.
The occupation of abandoned buildings becomes tempting in cities like Rio de Janeiro, Belo Horizonte and Salvador, particularly at a time of low economic growth and expensive rent.
The housing deficit has been on the rise throughout the country. According to data from the João Pinheiro Foundation - which compiles official statistics on the matter - microdata obtained from the national IBGE household survey (Pnad) indicates that the deficit, which was 9% in 2013 and 2014, went up to 9.3% in 2015, affecting 6.35 million households. Specialists believe that the rate may have gone up even further over the past two years.
This phenomenon is reflected in the multiple occupations that have taken place in downtown Rio de Janeiro, whether spontaneous or coordinated by organizations. In Salvador, colonial mansions and tenement houses are a good alternative for those who don't want to sleep outdoors in the city's historic downtown area. In Belo Horizonte, an 18-storey building that belongs to a pension fund has been turned into a home for 200 families in of the city's classier neighborhoods.
Folha visited nine different occupations in the three capitals. In all of them, the prevailing spirit was that they need to fight for their right to decent housing. In order to avoid risks such as fires and other kinds of accidents, residents take care of the premises as if they owned them.
Raquel Pinheiro dos Santos, 36, is a general services assistant who left the state of Piauí at the age of 14 for Rio de Janeiro, having run away from her parents.
In 2007, she lived across from a drug dealing spot and her rent was R$ 400 (US$ 113). She lived on a tight budget and feared she wouldn't be able to afford the place. Currently, she lives in an occupation in downtown Rio de Janeiro coordinated by the National Fight for Housing Movement (MNLM) in a building that at one point belonged to the National Social Security Institute (INSS) and is currently being renovated by the housing program Minha Casa Minha Vida Entidades. The ten-storey building houses 43 families. The building lacks electricity, meaning the elevator doesn't work. Residents split maintenance costs as well as tasks such as cleaning and supervising the front entrance.
In the Castelo neighborhood, in Belo Horizonte, 28 families have occupied an unfinished eight-storey residential building. The families are from out of town, unemployed or waste collectors. They use wooden boards to create a window-like effect while their children run around playing in the rubble. The building staircase does not include any kind of protection. "There are no housing alternatives [for the city's poor people]," said Isabella Gonçalves, a militant belonging to the Popular Brigades group and one of the Vicentão Occupation coordinators, in the city's downtown area.
In Salvador, 32 families live in the Rajada building, which is located in the city's commercial district. They all share a single bathroom and they usually only have access to water at night. The ceiling is covered in intertwining threads: cobwebs. Thin partitions separate the families from one another, forming a dark hallway.
Occupations are very common in the city's historic downtown area. The mayor's office of Salvador estimates that there are approximately 500 mansions that are not occupied by their owners. At least 266 of the properties are in serious risk of collapsing. The organizations that coordinate the occupations know of such risks, but they claim that these landmark properties tend to be taken care of by the families that are living in them.
Translated by THOMAS MATHEWSON