Latest Photo Galleries
Signs of Tension
Published on 04/11/2016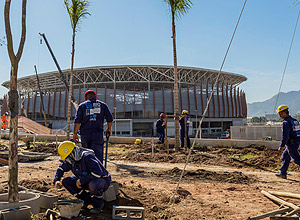 Rio: a City in Metamorphosis
Published on 11/19/2015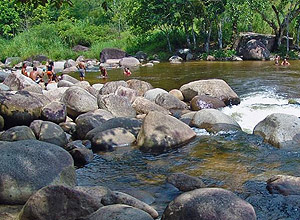 Crystal Unclear: A Future for Water Resources in Brazil
Brazilian Markets
18h20

Bovespa

-1,02%
76.028

16h43

Gold

0,00%
117

17h00

Dollar

+0,25%
3,9160

16h30

Euro

+0,49%
2,65250
One in Three Presidential Candidates Drops Out of the Race Six Months Prior to Election Day
05/15/2018 - 11h21
GUSTAVO URIBE
DANIEL CARVALHO
FROM BRASÍLIA
It may be surprising hat individuals such as Luciano Huck and Joaquim Barbosa, who were doing well in the polls, decide to drop out of the race, but it isn't an entirely atypical phenomenon if one considers Brazil's elections over the past three decades.
A compilation of Datafolha statistics that goes back to 1985 - when democracy in Brazil was restored - demonstrates that on average one in three of the main presidential candidates drop out of the race six months prior to the election.
Pedro Ladeira/Folhapress
Former Supreme Court justice Joaquim Barbosa
The so-called "straining effect" is caused by a lack of electoral support, health issues, family issues, the decision to endorse other candidates or the loss of internal support within a party - not to mention candidacies that are put forward by medium-sized parties just so they can increase their bargaining power.
If the past is any indication, then a similar phenomenon ought to take place this year, with several candidates dropping out. An April poll found that there are currently 18 presidential candidates.
If the trend holds up, then we may begin to see candidates such as Michel Temer (MDB), Rodrigo Maia (DEM) and Guilherme Afif Domingos dropping out of the race.
Last week, Mr. Barbosa (PSB) said on social media that he would be dropping out of the race and that it was a "strictly personal decision".
It was in late 2017 that Mr. Huck, who was sought after by parties such as PPS and DEM, said that one of the reasons he was dropping out had to do with how disruptive the public scrutiny surrounding the dispute was.
According to the compilation, the highest dropout rate occurred in 2002, when half of those considered presidential candidates decided not to run.
The lowest rate occurred in 1998, when PRTB candidate Levy Fidelix was the only one who ended up not participating in the election.
Translated by THOMAS MATHEWSON