Latest Photo Galleries
Signs of Tension
Published on 04/11/2016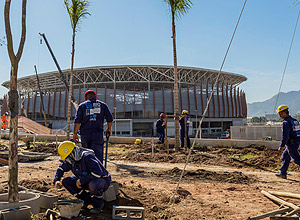 Rio: a City in Metamorphosis
Published on 11/19/2015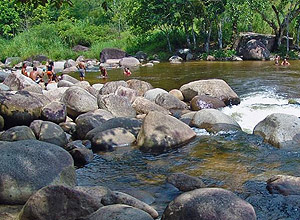 Crystal Unclear: A Future for Water Resources in Brazil
Brazilian Markets
17h39

Bovespa

-0,68%
113.283

16h43

Gold

0,00%
117

17h00

Dollar

+0,60%
5,3440

16h30

Euro

+0,49%
2,65250
Infant Mortality Rate in Brazil Has Gone up for The First Time Since 1990
07/16/2018 - 12h28
CLÁUDIA COLLUCCI
MARINA MERLO
SÃO PAULO
The infant mortality rate in Brazil, which consistently went down since 1990, started going up in 2016. It is believed that the rate for 2017 will also be higher than the 2015 rate.
Both the Zika epidemic and the country's economic recession have been highlighted by the Ministry of Health as causes for the rising infant mortality rate.
The Zika epidemic didn't just lead to a decrease in terms of the number of births (which has an impact on the calculation of the infant mortality rate), it also led to an increase in infant deaths due to severe malformations.
AP Photo/Eraldo Peres
Dr. Thiago Rodrigues injects botox into the calf of a child who was born with the Zika-caused microcephaly birth defect, to ease muscle spasms, at the Getulio Vargas Hospital, in Recife, Brazil
The recession, on the other hand, has been associated with preventable infant deaths caused by diarrhea and pneumonia, since it led to lower household incomes, the stagnation of social programs and budget cuts in public healthcare.
The recently-published data collected by the Ministry of Health that was obtained by Folha demonstrates that, from 1990 onward - data collected prior to 1990 adopted a different criteria - the country reduced its infant mortality rate at an average of 4.9% per year.
The rate was superior to the global average of 3.2% found in a 2017 report conducted by UNICEF (United Nations Children's Fund).
In Brazil, the 2016 infant mortality rate was 14 infant deaths per thousand births, an increase of almost 5% when compared to the previous year and similar to the 2013 and 2014 rates.
According to the UNICEF report, the infant mortality rate in Latin America in 2015 and 2016 remained at 18 infant deaths per thousand births. Throughout the world, the downward trend continued, going from 42 infant deaths per thousand births to 41.
"The tendency is for things to get worse," said Fátima Marinha, the director of the Ministry of Health's Department of Diseases and Noncommunicable Illnesses.
The infant mortality rate considers the number of deaths of infants aged one and under for every 1,000 live births.
Translated by THOMAS MATHEWSON