In a reaction against the closing of 11 lumberyards due to environmental irregularities, lumberers held a protest in Manacapuru (99 km from Manaus). As a security measure, the officers from Ibama (Brazil's environmental agency) who shut the yards down, left town.
During the demonstration, some protesters carried posters mentioning president-elect, Jair Bolsonaro (PSL), who has accused Ibama of practicing "radical environmental activism."
"The group used fireworks and threatened to head towards the hotel where environmental agents were staying, but the team had already left," said a spokesperson from Ibama, in a statement.
Since last week, Ibama closed 11 lumber companies in the city, of which four then submitted the required documentation.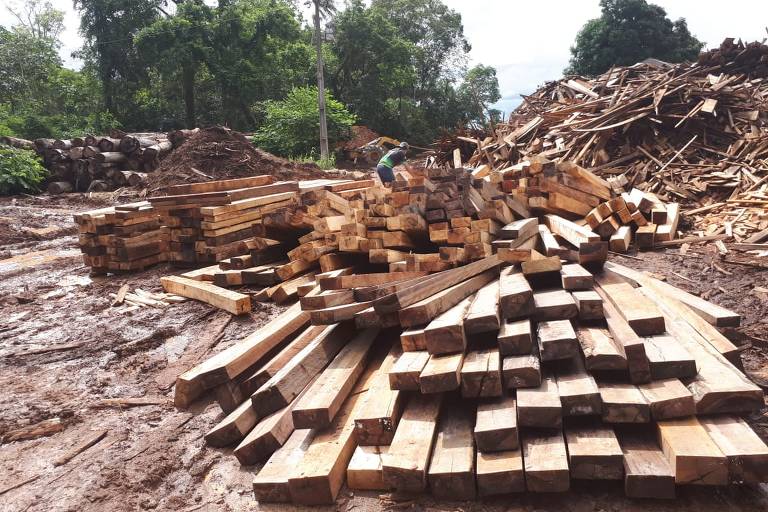 Lumber yard closed by Ibama agents in Manacapuru (AM)
Ibama/Divulgação
Employees from different environmental agencies and departments have reported increased hostility against inspectors in the Amazon region since Bolsonaro's election, including burned cars, obstruction of roads used for surveillance and death threats.
The president-elect is a fierce critic of environmental agencies since he was fined in R$ 10,000 (US$ 2,500) for fishing in a protected area on the coast of Rio de Janeiro, in 2012. He hasn't paid the fine yet.
In a recent interview to Folha, Ibama's president Suely Araújo said Bolsonaro's remarks are of Bolsonaro "are an apology to the thought that environmental norms are unnecessary and superfluous, something that stops the country's development."
Translated by NATASHA MADOV