Latest Photo Galleries
Signs of Tension
Published on 04/11/2016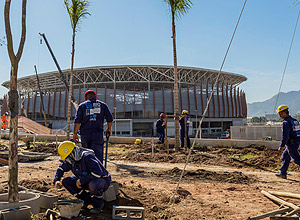 Rio: a City in Metamorphosis
Published on 11/19/2015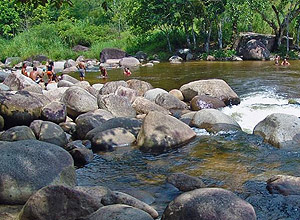 Crystal Unclear: A Future for Water Resources in Brazil
Brazilian Markets
17h19

Bovespa

-2,06%
111.439

16h43

Gold

0,00%
117

17h00

Dollar

+0,43%
5,2890

16h30

Euro

+0,49%
2,65250
Brazil "Loses" US$ 6 Billion in Exports
05/07/2013 - 09h04
RENATA AGOSTINI
FROM BRASILIA
Brazil has been losing ground in all its major overseas markets and the bill for this increasingly timid presence has been high for the accounts of the country: this year alone, it has lost at least US$ 6 billion in exports.
The value corresponds to what the country would have sold to China, the United States, the European Union and Argentina in the first two months of this year if it had maintained the same share in total imports of these markets in 2012.
The four markets are the destination for more than half of Brazilian products that go abroad.
The calculation made by CNI (the National Confederation of Industry) at the request of Folha considers bimonthly data in the absence of information from all the countries studied for the quarter. The amount calculated would represent a strong relief for the trade balance (the difference between imports and exports), which up to April has registered a historical negative amount of US$ 6.2 billion.
The sliding performance is repeated in all markets. In China, the country's main trading partner, the Brazilian share fell from 2.4% in the first two months of 2012 to 1.9% of the total this year, with a reduction in the purchases of crude oil, soybeans and iron alloys, among others. In total, Brazil has lost US$ 3 billion in revenue.
The country's participation in purchases made by the U.S. shrank from 1.6% to 1.2% of the total, costing US$ 1.6 billion in exports. There was a decrease, for example, in the sales of engines, oil and coffee.
The European Union has reduced its foreign purchases in the period, but the cut in consumption of Brazilian products was more intense. Thus, the country's share fell from 1.93% to 1.71%, almost US$ 1 billion in lost sales.
In Argentina, the share of Brazilian products decreased from 27.1% of total imports to 25.4%. In the same period, the Chinese increased their share from 14.9% to 16.6%. The decrease represented US$ 200 million less in exports for Brazil.
Among the reasons for the Brazilian collapse abroad, are the low production of Petrobras, the delay in shipments due to logistical problems, and the low competitiveness of manufactured goods.
Translated by DAVE WOLIN