Latest Photo Galleries
Signs of Tension
Published on 04/11/2016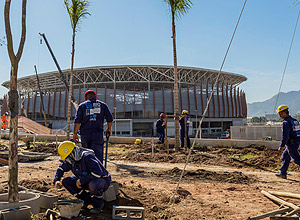 Rio: a City in Metamorphosis
Published on 11/19/2015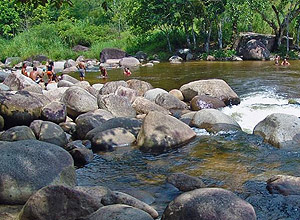 Crystal Unclear: A Future for Water Resources in Brazil
Brazilian Markets
18h19

Bovespa

+0,97%
121.881

16h43

Gold

0,00%
117

17h00

Dollar

-0,77%
5,2720

16h30

Euro

+0,49%
2,65250
Rousseff Tries to Reassure Markets After Brazil Downgrade
09/10/2015 - 15h30
JOE LEAHY
FROM "THE FINANCIAL TIMES"
Brazil's president Dilma Rousseff on Thursday (10) sought to reassure investors that Latin America's biggest economy would meet its obligations after Standard & Poor's downgraded the country's prized investment grade debt rating to junk.
The timing of the downgrade on late Wednesday (9) night caught markets by surprise, knocking 2.73 per cent off the value of Brazil's real against the dollar, sending it to a new 12-year low of R$3.88 and putting Brazil at the forefront of a global slump in emerging markets.
"This rating does not mean Brazil is in a situation in which it cannot meet its obligations," Ms Rousseff said in an interview with business news group Valor Econômico. "On the contrary, we are paying for all of our contracts and we also have a clear economic strategy."
The comments are unlikely to reassure markets, which have become increasingly sceptical about the ability of Ms Rousseff's centre-left administration to deliver a promised fiscal austerity package.
The downgrade from triple B minus to double B plus with a negative outlook comes as Ms Rousseff is already wrestling with a recession, record low approval ratings, the threat of impeachment by congress and a paralysing corruption investigation at state-controlled oil company Petrobras in which senior congressional figures are implicated.
The loss of the hard-won investment-grade status, which Brazil only achieved in 2008, is a blow to Ms Rousseff's finance minister, Joaquim Levy, a Chicago-trained economist who has fought resistance in congress and, reportedly, within the president's cabinet, to the austerity package.
The other major rating agencies, Moody's and Fitch, still have Brazil on investment grade.
"This [the downgrade] is going to reinforce a trend that started to develop since July which was a gradual reduction of the footprint of exposure to Brazilian risk," said Alberto Ramos, economist with Goldman Sachs in New York.
S&P said its downgrade, which had been expected next year, was partly prompted by continuous backpedalling on fiscal targets and signs of disagreement within Ms Rousseff's cabinet over the austerity programme.
The government first slashed its forecasts for a primary fiscal surplus - the budget balance before interest payments, considered a key indicator of the health of public finances in Brazil - in late July to 0.7 per cent of gross domestic product in 2016, down from about 2 per cent earlier.
Last week, it announced it was revising the forecast again to a deficit of 0.3 per cent.
The immediate concern for the government from the rating downgrade is capital flight. About 20 per cent of government debt is held by foreigners.
Many global institutional investors face restrictions on how much of their portfolios can be held in subinvestment grade credits.
While only one of the major rating agencies has cut Brazil's debt, if another follows, the exodus could pick up steam and be matched by local investors.
Prices for Brazilian government debt issued in dollars fell, pushing the yield on a $4.3bn bond due in 2025 up to 5.88 per cent, the highest since it was issued two years ago.
The bond is held by a number of global asset managers including BlackRock, which reduced its position on Wednesday (9), along with Verde Asset Management, Brazil's largest hedge fund.
"Few EM-specific investors will be constrained to investment-grade assets but there will be institutional investors who have to change their portfolios," says Claudia Calich, emerging markets debt manager at M & G.
Of more immediate concern for Ms Rousseff, however, is what the downgrade means for the future of Mr Levy.
While respected as a competent finance minister, his austerity measures are facing resistance from more dovish figures in the cabinet, including Nelson Barbosa, planning minister, and Aloizio Mercadante, the president's influential chief of staff, said Eurasia Group in a note.
These disagreements were shown by dramatic events last Thursday (3) when Mr Levy suddenly cancelled a scheduled trip to Turkey for the Group of 20 summit to attend a meeting with Ms Rousseff, stoking rumours he was about to resign.
Ms Rousseff and Mr Mercadante later emerged in public announcing their support for the finance minister. But analysts believe the loss of investment grade will weaken him further - preserving it was one of the key reasons for his appointment.
"Events over the past two weeks clearly increase the risks for the administration. Not only has Joaquim Levy's permanence in government become more uncertain, but with it, Rousseff's political standing," said Eurasia Group head of country analysis Chris Garman in a report Thursday (10).
With additional reporting by Elaine Moore in London
Copyright The Financial Times Limited 2015