Latest Photo Galleries
Signs of Tension
Published on 04/11/2016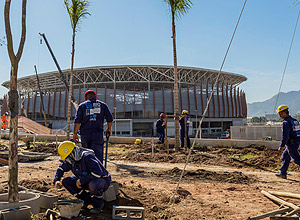 Rio: a City in Metamorphosis
Published on 11/19/2015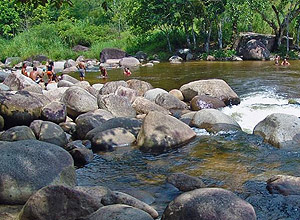 Crystal Unclear: A Future for Water Resources in Brazil
Brazilian Markets
18h15

Bovespa

+0,27%
128.405

16h43

Gold

0,00%
117

17h00

Dollar

+0,93%
5,0710

16h30

Euro

+0,49%
2,65250
Brazil Ruling Party Head Sparks Fears of Return to Statist Policies
01/08/2016 - 08h46
JOE LEAHY
"FINANCIAL TIMES"
As Brazil was closing one of its worst years on record for economic growth last week, the ruling Workers' Party, or PT, of President Dilma Rousseff came up with a proposed solution to the country's woes - more of the same.
In a column on the party's website, PT president Rui Falcão attacked the use of high interest rates to try to control rising inflation and called for subsidies to reignite the economy.
Particularly worrying for investors was the implication that the party would try to influence the monetary policy of Brazil's central bank, which enjoys informal autonomy.
"The government of President Dilma Rousseff needs to concentrate on the construction of an agenda that will recover the confidence of the population that was lost in the early part of her government," Mr Falcão wrote.
For Brazil's investors, any attempt to revisit the statist policies of Ms Rousseff's first four-year term would be disastrous.
Between 2011 and 2014, her government pumped up lending by government banks, sought to force down interest rates and tried to control inflation by capping energy and fuel prices, policies which resulted in a higher fiscal deficit and government debt.
These ended in 2014 after the government increased the fiscal deficit and gross public debt by pumping up lending by state-owned banks and seeking to force down interest rates and control inflation through price caps.
Partly as a result of these policies and partly due to the end of the commodities super-cycle, Brazil is facing its worst recession since at least the 1930s.
Economists surveyed by the central bank expected Latin America's biggest economy to have shrunk 3.71 per cent last year and predict it will contract a further 2.95 per cent this year.
The slowdown is a brutal ending to the long period of prosperity Brazil enjoyed during the first decade of this century when the second-biggest emerging market seemed to have shaken off economic crises of the past.
"It's almost impossible to mess up a country with the potential of Brazil but we are doing it and we have the talent to do it," said Paulo Sotero, director of the Brazil Institute at the Woodrow Wilson International Center for Scholars.
To try to rein in the budget deficit, which is running at over 9 per cent, Ms Rousseff last year hired University of Chicago-trained fiscal hawk Joaquim Levy as finance minister.
But he resigned just before Christmas after opposition from congress and the PT thwarted many of his attempts to cut expenses and raise taxes and led to the loss of Brazil's investment grade rating.
Although Ms Rousseff appeared to favour fiscal consolidation, she was forced to move closer to her base in the far-left of the PT after the opposition in congress, hoping to exploit her record low popularity in opinion polls, began a movement to impeach her.
Now there are concerns that having defeated Mr Levy - he was replaced by Nelson Barbosa, a minister seen as competent but closer to Ms Rousseff - the PT is angling to influence the central bank, which analysts see as the last line of defence in Brazil's fight against rising inflation.
The central bank has raised interest rates to 14.25 per cent and is expected to hike them further in 2016. Economists estimate that inflation finished 2015 at 10.7 per cent, well above the central bank's ceiling of 4.5 per cent plus or minus 2 percentage points.
Some analysts believe the PT may also seek to put pressure on state banks to lend more.
Copyright The Financial Times Limited 2016