Latest Photo Galleries
Signs of Tension
Published on 04/11/2016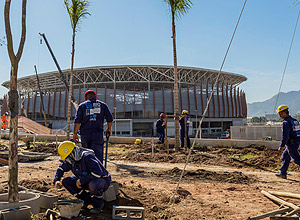 Rio: a City in Metamorphosis
Published on 11/19/2015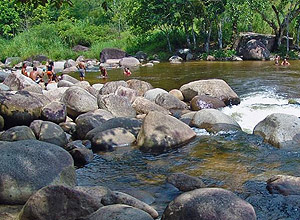 Crystal Unclear: A Future for Water Resources in Brazil
Brazilian Markets
18h14

Bovespa

+1,39%
78.571

16h43

Gold

0,00%
117

17h02

Dollar

-1,87%
3,7740

16h30

Euro

+0,49%
2,65250
Development Bank Wants Batista Family Out of JBS
09/22/2017 - 12h39
JOE LEAHY
ANDRES SCHIPANI
"FINANCIAL TIMES"
Brazil's national development bank, BNDES, has vowed to remove the controlling Batista family from the board of scandal-hit JBS, the world's largest meatpacker. 
With a 21 per cent stake in the company, BNDES's shareholding arm, BNDESpar, wants to professionalise control of JBS after members of the Batista family admitted to corruption. The Batistas control 42 per cent of the São Paulo-based company. 
"We want to move further on - you [the Batistas] have done a professional job business-wise but in terms of governance you were like a dwarf," said BNDES chief executive officer Paulo Rabello de Castro in an interview.
"So that [the family's removal from the board] is what we are demanding from them and that's what we are going to obtain from them." 
Mr Rabello's comments ratchet up a war of words between the new head of BNDES and the bank's best known protégé. JBS built itself up using subsidised loans from BNDES to become in little over a decade the largest meatpacker in the world. 
Former JBS chairman Joesley Batista and his brother Wesley, the company's CEO, signed plea bargains in May admitting to massive corruption, including bribing more than 1,800 politicians over several years. 
The brothers nearly brought down President Michel Temer in May after Joesley Batista submitted a tape to prosecutors in which he allegedly discussed bribes with the Brazilian leader. Mr Rabello was appointed in June to head BNDES, after the publication of the Temer tapes. 
Mr Temer survived a vote in congress in August on whether to try him on the charges and is expected by analysts to weather a second indictment authorised by the supreme court on Wednesday. 
The brothers are being held on temporary arrest after their earlier plea bargains were called into question for omission of facts, including allegations they co-opted a public prosecutor to help them. 
The Batistas say they are being unduly punished for whistleblowing on alleged corruption in the government.
JBS last Saturday evening held a board meeting at which it replaced Wesley Batista as CEO with his octogenarian father, the group's founder José Batista Sobrinho, in a decision that BNDES representatives supported at the time. But Mr Rabello has since criticised the decision and maintains the family should not be managing the company.
JBS was a financial and business giant but a "governance dwarf," said Mr Rabello. "We want to really make it even. So it's nothing personal, it's not a matter of taking the Batista family in or out, it is a matter of professionalising a company that works with money that belongs to the public." 
Mr Rabello's comments come as the former head of the government`s statistics agency, IBGE, is steering the country's biggest long-term credit organisation through a sensitive moment. 
Brazil has passed a law that will eliminate subsidised long-term credit, a mainstay of BNDES's business, over five years in exchange for market-based rates, putting the institution's reason for being into doubt. 
At the same time, the BNDES is trying to crack down on errant borrowers who have admitted to corruption and help smaller borrowers. 
"We are going to, let's say, turn the emphasis away from the so-called big companies, the big shots, towards the small and medium-sized companies," said Mr Rabello. 
With the government expected to pump fewer funds into the bank in the coming years to subsidise borrowing, BNDES would look overseas for cheaper funding, Mr Rabello said. 
For this reason, it was reopening an abandoned office in London, from where it hoped to raise funding for Brazilian infrastructure projects alongside other multilateral and export lenders. 
Copyright The Financial Times Limited 2017