Latest Photo Galleries
Signs of Tension
Published on 04/11/2016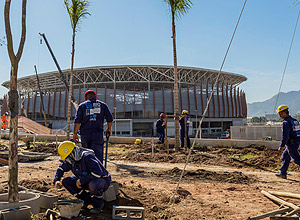 Rio: a City in Metamorphosis
Published on 11/19/2015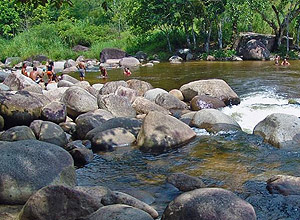 Crystal Unclear: A Future for Water Resources in Brazil
Brazilian Markets
18h30

Bovespa

+0,58%
122.516

16h43

Gold

0,00%
117

09h30

Dollar

+1,21%
5,2280

16h30

Euro

+0,49%
2,65250
Brazilian Shoppers Help Buoy Nascent Recovery
12/06/2017 - 14h30
JOE LEAHY
JOHN PAUL RATHBONE
"FINANCIAL TIMES"
Maria Cláudia Faria will be breathing a sigh of relief this Christmas.
The account manager at marketing agency Kerigma in São Paulo state says she has almost paid off the excessive credit card debt she accumulated during Brazil's great recession of the past two years.
After the downturn slashed her income in half, she started using four credit cards to pay off her car loan instalments, before finally returning the vehicle to the bank and restructuring her debts.
"I was no longer managing to sleep, I was worried . . . I had no money and no longer had an income," Ms Faria says. "Now, I'm more tranquil because I will end the year with no debts, thank God, and I am able to borrow again."
Like Ms Faria, millions of Brazilians are beginning take out credit again, adding a growing head of steam to a budding recovery as Brazil emerges from its worst recession in history.
"Households and corporates have been deleveraging, so the pick-up in growth could be fast, and more than expected," says Mauro Roca, sovereign analyst for TCW, a US fund manager.
Politics is perhaps the only big reason for caution
Mauro Roca, analyst at TCW Latin America's biggest economy is now preparing for what is likely to be its strongest Christmas for retail sales since the recession began.
This year, the economy is expected to grow by 1 per cent, rising to as much as 3.5 per cent in 2018, according to the most optimistic forecasters.
The consensus from economists surveyed by the central bank is for 2.5 per cent. This compares to a 3.6 per cent contraction in 2016 and a 3.8 per cent contraction in 2015.
Before the recession struck, Brazil was one of the world's most dynamic emerging consumer markets, with shoppers buying everything in instalments, from beauty products to cars.
For many Brazilians, buying in instalments is the only way they can afford to buy many goods.
But the economy began to slow in 2011 just as the average Brazilian's debt service payments peaked at 23 per cent of household income, almost double what US debt service costs were before its 2008 housing market crash.
Unemployment reached more than 13 per cent, while per capita consumption contracted a cumulative 12 per cent between the first quarter of 2015 and the same period this year, according to Goldman Sachs.
High inflation squeezed real wages. Soaring interest rates and sharp increases in energy prices also hit consumers' pockets.
"People got really traumatised," says Marcos Casarin, head of Latin American macro services at Oxford Economics.
"It had never happened before this combination of over-borrowing by families, companies and the government all at the same time and then suddenly the lights went off and everyone had to adjust at the same time."
Unlike their counterparts in the US, though, Brazilians are mostly laden with short-term consumer debt rather than mortgages.
Their debts are also relatively small, at less than 42 per cent of annual income versus 100 per cent in the US. As a result, many have paid off their debts much faster.
Already, the improved credit conditions are beginning to show up in banks' results.
"Loans granted to individuals in Brazil increased around 10 per cent, which was reflected in an increase in the consumer finance portfolio in the quarter," Itaú Unibanco, the country's biggest private bank, says in its third-quarter results.
Retailers too are feeling the rebound, with retail sales rising 9.3 per cent in September compared with a year earlier.
"Brazilian retail finally returned to a trajectory of growth in the third quarter," says Magazine Luiza, a big retailer, in its financial results for the three months to the end of September.
The main obstacle to a full recovery remains presidential elections next year, which are expected to be among the most unpredictable in a generation, analysts say.
With the political class devastated by corruption scandals, there are still no clear candidates. "Politics is perhaps the only big reason for caution," says Mr Roca of TCW. Still, that is not expected to stop the celebrations this Christmas. 
At Brazil's ports, imports of finished manufactured goods, which are usually consumer products, soared 44 per cent in the third quarter compared with a year earlier, according to Maersk Line, the world's biggest shipping line.
Imports for components for the assembly of goods such as televisions in Manaus, the country's special duty-free zone, rose 35 per cent during the quarter as the nation braced for Christmas and next year's football World Cup.
Overall, containerised imports were up 14.3 per cent during the third quarter compared with a year earlier, the fourth quarter in a row of double-digit growth, Maersk said.
"The growth that we have seen within the last quarters, it has come faster than probably we had anticipated - not only us but probably the industry as such," says Nestor Amador, commercial director for Maersk Line East Coast South America.
Copyright The Financial Times Limited 2017