Latest Photo Galleries
Signs of Tension
Published on 04/11/2016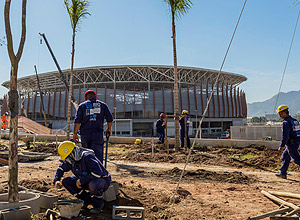 Rio: a City in Metamorphosis
Published on 11/19/2015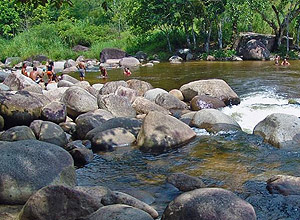 Crystal Unclear: A Future for Water Resources in Brazil
Brazilian Markets
16h46

Bovespa

+1,02%
103.851

16h43

Gold

0,00%
117

16h43

Dollar

+0,96%
5,3500

16h30

Euro

+0,49%
2,65250
Oi Saga Prompts Brazil to Rethink Bankruptcy Law
01/16/2018 - 12h15
JOE LEAHY
ANDRES SCHIPANI
"FINANCIAL TIMES"
When Brazilian telecom operator Oi and its creditors reached an agreement to resolve Latin America's largest corporate debt default just before Christmas, it took many of those involved by surprise.
After 18 months of boardroom intrigue - including death threats against Oi's former chief executive - Brazil's largest fixed-line telecoms operator suddenly presented a viable plan to creditors to reschedule its estimated R$65bn (US$17.5bn) in debt. 
So painful has been the Oi saga and other Brazilian debt restructurings - the final creditor meeting to vote on Oi's debt deal took nearly 14 hours and filled a former Olympic Games venue in Rio de Janeiro - that the finance ministry is working on changes to streamline the country's debt restructuring law.
Oi's restructuring plan was approved by a court this week.
"What we want to do, is move our system closer to the North American one because that would reduce the cost of entry for global funds wishing to invest in Brazilian companies," says Cássio Cavalli, a bankruptcy specialist at law school FGV Direito Rio.
Even before Oi filed for protection from its creditors in June 2016, Brazil had a reputation for difficult debt restructurings. The average debt recovery process in Brazil yielded just 12.7 cents in the dollar and took four years, according to a World Bank report. This compared with 21.5 cents and 2.4 years for Argentina, and 82.1 cents and one year for the US.
While studies show Brazil's existing bankruptcy law, introduced in 2005, is an improvement on earlier legislation, it contains problematic requirements, particularly one that only equity holders can present a debt recuperation plan, not creditors.
Aside from a reform to give creditors the right to present their own plan to the bankruptcy court, other proposed changes might include allowing creditor meetings to be conducted electronically rather than in person and better enforcement of the rights of secured creditors.
Oi's recovery process is crucial for the government. Not only does Oi owe the industry regulator, Anatel, R$20bn in fines and charges, it is also a major employer and service provider, with 63m subscribers as of September, 2017. In the third quarter ending in September, the company generated nearly R$5.9bn of revenue. 
"There were times when we believed there was only a 10 per cent chance of ever getting this resolved," says one creditor representative involved in the Oi talks. 
Oi has proved complicated to resolve not only because of its size but also because of the presence of veteran Brazilian distressed market investor, Nelson Tanure, people involved in the talks say. Through his Société Mondiale fund, Mr Tanure holds a 5.28 per cent stake in Oi and is the second-biggest shareholder after Pharol SGPS, formerly Portugal Telecom, which has 22.24 per cent. 
Lined up against Mr Tanure and Pharol, holding about R$21bn in debt are bondholder groups advised by Moelis & Company and G5 Evercore including Aurelius Capital Management and GoldenTree Asset Management, as well as export credit agencies represented by FTI Consulting. The rest is owed to local banks, government agencies such as Anatel and others.
Mr Tanure and Pharol backed restructuring plans that would have preserved their equity while handing large losses to creditors. They have been accused of playing dirty to get their way, including trying to appoint their own people to management to steer the debt negotiations. They have angrily denied such charges.
The temperature rose abruptly in November last year, when chief executive Marco Schroeder, who analysts believed had fallen out of favour with Mr Tanure and Pharol, suddenly resigned, citing death threats from unidentified third parties.
The breakthrough came when the judge in the case, Fernando Viana, surprised markets by unexpectedly awarding exclusive rights to the new chief executive, Eurico de Jesus Teles Neto, to conduct the debt talks without consulting the board. Judge Viana justified his decision to approve the debt plan this week by emphasising Oi's importance to the economy.
It's going to take a number of years. Brazil's bankruptcy law is still young and incipient and very inefficient
Sam Aguirre, FTI Consulting
Under the deal, creditors will receive up to 75 per cent of Oi's equity in exchange for injecting R$4bn in new capital and will receive up to 38 cents in the dollar on their debt, according to investment bank Exotix Capital.
Société Mondiale has criticised the plan, saying Oi "has been handed to a group of speculators". Pharol, meanwhile, has challenged parts of it in court.
Oi seems set to attract new investors, possibly including China Telecom. But for bankruptcy specialists, the case only underlines the need for urgent reform, which was promised by finance minister Henrique Meirelles in November.
Yet credit specialists caution that any effort to bring Brazil's tortuous debt restructuring procedures into line with international practice will be arduous.
"It's going to take a number of years," says Sam Aguirre, senior managing director at FTI Consulting. "Brazil's bankruptcy law is still young and incipient and very inefficient."
Copyright The Financial Times Limited 2018