Latest Photo Galleries
Signs of Tension
Published on 04/11/2016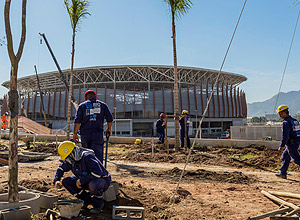 Rio: a City in Metamorphosis
Published on 11/19/2015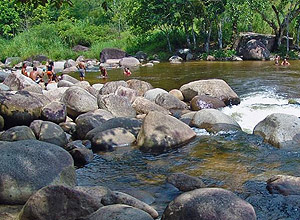 Crystal Unclear: A Future for Water Resources in Brazil
Brazilian Markets
18h16

Bovespa

+0,80%
70.641

16h43

Gold

0,00%
117

17h00

Dollar

+0,58%
3,7840

16h30

Euro

+0,49%
2,65250
Cargo Carried in Airplanes to Avoid Theft in Brazil
02/26/2018 - 10h25
ANA ESTELA DE SOUSA PINTO
JOANA CUNHA
FROM SÃO PAULO
Medicine and mobile phones are abandoning roads and travelling only by airplane in Brazil.
The choice to travel by air is now made even in short distances, such as from São Paulo to Rio de Janeiro, even though when travelling by land, the cargo arrives in the same day, say the general director of Latam Cargo Brasil, Diogo Elias, and the Cargo Director of Gol, Eduardo Calderon.
At the Viracopos airport, the second biggest cargo terminal in the country, the total amount of items transported rose by 17% between 2016 and 2017, while the volume of these goods increased by only 11% – that means each cubic meter was occupied by more expensive cargo.
The change is confirmed not only by air companies and airports, but also by shipping companies, which used to send part of these products by land.
The reason for this change is cargo thefts on roads, which nearly doubled in the country between 2011 and 2016, reaching 22,547 cases in 2016, according to the Rio de Janeiro Federation of Industry.
More robberies mean higher risks travelling on roads and, the more expensive the goods are, the bigger the requirements made by insurance companies to cover the cargo.
Filled with medicine, for example, a truck can take as much as R$ 3 million (US$ 900,000) worth of goods - this cargo would only be covered by a security company if it had double escorts, tracking devices or even an armored truck cab.
The solution would be to share the products to be carried by several vehicles, each taking a smaller value worth of goods; however, in this case, instead of hiring five trucks to take the medicine to Rio de Janeiro, it would be cheaper to send it by airplane.
The director of operations of the Viracopos airport, Marcelo Mota, says that today there are parts of the road between Rio and São Paulo that are no longer covered by insurance companies. Also, drivers have refused to work in areas often targeted by thieves, says Elias.
Translated by THOMAS MUELLO