Latest Photo Galleries
Signs of Tension
Published on 04/11/2016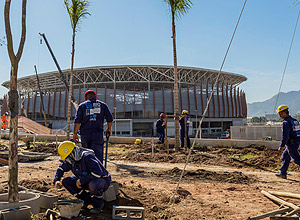 Rio: a City in Metamorphosis
Published on 11/19/2015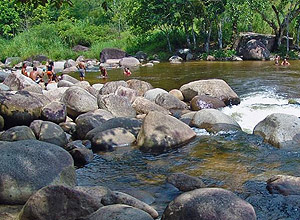 Crystal Unclear: A Future for Water Resources in Brazil
Brazilian Markets
17h35

Bovespa

-1,33%
106.296

16h43

Gold

0,00%
117

17h00

Dollar

-0,74%
5,6250

16h30

Euro

+0,49%
2,65250
Brazilian Oscar Nominee Says it Took a Long Time for Him to See Himself As a Filmmaker
01/22/2016 - 09h26
MARIA CLARA MOREIRA
FROM SÃO PAULO
Sitting in a shelf from the studio of the director Alê Abreu, 44, two Great Brazilian Cinema Awards are waiting to be transferred to his living room.
"It's a kind of witchcraft", explains his assistant Taina Maneschy. "These prizes will only change rooms when the next one comes". And the next one would be the Academy Award for Best Animated Feature.
On February 28 the boy who once swore he would never wear a suit will give in to a smoking in order to represent Brazil at the Oscars. Not bad for a director who was reluctant to embrace filmmaking as a career.
"It took a long time for me to see myself as a filmmaker. This only happened two years ago, when I was already working as a director for five years", he admits. "Before, in hotel registration forms, I would always write 'designer' in the field 'profession'".
Alê's interest in drawing started early. He already showed a predisposition towards art in kindergarten. The beginning, however, was at home with his mother, who died when he was only five years old.
"I don't remember her very well, but one memory survived: when she taught me how to mix primary colors to form the secondary colors. This is the oldest memory I have related to drawing, and it formed a bond with my career".
Unlike the boy in his film, who leaves the countryside to look for his father in a big town, Alê grew up in a provincial metropolis. In Perus, a neighborhood in the north of São Paulo city, he would explore the mountains and fish for snakes.
At the age 11, he began to develop his style during an internship with Maurício de Sousa. He did not like to copy other people's characters. "The good thing is that I used to talk to Maurício. He used to say that could draw Horácio very well". The creator of "Mônica" says he does not remember Alê.
Later, Alê's desire for autonomy led him to refuse a chance to send his work to Disney when the company was looking for professionals in Brazil.
At the age 12, he started to work with animation, after taking part in a workshop at the Museum of Sound and Image in São Paulo.
Sérgio Tastaldi, 70, his first teacher, says that Alê always stood out. "Children are a bit noisy, but he was not. Alê was very serious, focused and original, and he also was the youngest in the group," he recalls.
The passion for drawing receded during his teenage years, when Alê discovered the skateboard. He was skilled and got a sponsorship to take part in vertical ramps championships. "But even then I used to draw 'shapes' and T-shirts," he says.
His father, who is a businessman, kept pushing him to make money. Alê claims he learned how to deal with the financial question ("It was natural, and my father business expertise probably helped me to manage my projects").
Then Alê started to study Journalism and, at the same time, he started to produce his first short film, "Sirius", from 1993, with the help of colleagues.
After graduating, he illustrated children's books and advertising campaigns to finance the short films "Scarecrow" (1998) and "Step" (2007) before launching his first feature film, "The Cosmic Boy", in 2008.
Two years before that, inspired by Latin America's revolutionary past, Alê devised a documentary about the continent protest songs. He named the documentary "Canto Latino", a tribute to the music of Milton Nascimento.
Alê was totally involved in this project when he found a drawing of a stick boy in his files - a drawing he did not even remember having made. "The urgency of this drawing provided me with the energy to make a movie", he recalls. "Canto Latino" was aborted. And "Boy and the World" was born.
The original idea of "Boy" changed, but Alê kept the political subtext of alienation, poverty and police brutality. The director was not afraid to make a movie considered too complex for children to watch.
"It is boring for them if you make a childish animation, for they find themselves forced to watch something that patronizes them", he criticizes.
The choice paid off: "Boy" is running against "Anomalisa", "Shaun the Sheep", "When Marnie Was There" and "Inside Out" for the Oscar of Animated Feature Film. The nomination sent the film back to Brazilian cinemas. "Boy and the World" was originally launched in 2014, when 35,000 people watched it.
Translated by CLÁUDIA GONÇALVES
Divulgação
"Boy and the World" is running for the Oscar of Animated Feature Film