Latest Photo Galleries
Signs of Tension
Published on 04/11/2016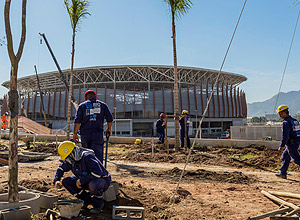 Rio: a City in Metamorphosis
Published on 11/19/2015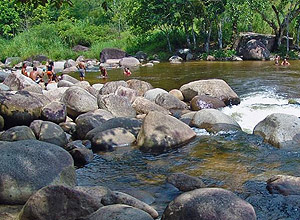 Crystal Unclear: A Future for Water Resources in Brazil
Brazilian Markets
18h18

Bovespa

+2,22%
115.202

16h43

Gold

0,00%
117

17h00

Dollar

+0,38%
5,6820

16h30

Euro

+0,49%
2,65250
Bullying a Journalist
10/23/2017 - 12h50
An episode that symbolizes the current and embattled political atmosphere was that between comedian Danilo Gentili and a reporter from the paper who wound up fired this last week.
On Friday, the 13th of October the Culture section dedicated a page to introducing Gentili's new movie - "How to Become the School's Worst Student".
The article in question, which contained the headline "Adolescent comedy jokes about bullying and pedophilia", is descriptive. Toward the end, the article mentions that one of the scenes, in which one of the characters asks teenagers to help him masturbate, was widely discussed. The report clearly states that Gentili didn't want to respond to questions raised regarding jokes about pedophilia.
On another page in the Culture section, a review done by another professional (Marina Galeano) evaluated the move as lousy: "It does anything and everything to cross over the line and yank laughter from the audience" it stated. Examples followed: "dialogs in poor taste; flooded with cursing; raunchy scenes, jokes about minorities, religion and even pedophilia".
The review was tougher on the film than the article presenting it. At 10:14 AM on the day of the publication, Gentili opened up a kind of cyberbullying on Twitter: "The article lies. I will post the whole interview soon [I filmed it]. Search on DIEGO BARGAS. What is the likelihood of his doing an impartial analysis?"
At 11:05 he put up the video of the complete interview and at 13:14 he reposted earlier comments the reporter had made on Facebook, which Gentili classified as petistas (sympathetic to the Workers' Party). There were no lies from the reporter, but Bargas was engulfed in a hurricane on social networks. He locked down his Facebook and Twitter accounts and warned his direct boss about what was going on.
A few hours later, Folha made its lawyers available to Bargas to defend him from cyberbullying, but also announced that he was being fired from the newspaper for disrespecting its reiterated guidance to "avoid partisan-political comments" on social networks.
The complete video of the interview between Bargas and Gentili makes it clear that the comedian was uncomfortable with the questions that were being asked. The journalist, however, also didn't present himself well professionally. He came across as insecure, confused and insisted on questioning only one aspect of the movie (the limits of humor).
Diego Bargas, 29, had been employed by Folha for a little more than 8 months in the F5 Cultural Nucleus, the newspaper's entertainment site.
Bargas declares himself to be a supporter of ex-presidents Lula da Silva and Dilma Rousseff and of ex-São Paulo mayor Fernando Haddad. He says that he is aware of the newspaper's guidelines, but had never imagined that his posts would be problematic. "They don't defend ideas. Talking about Lula's sarrada [a sexual gesture] doesn't mean I can't be critical of him. I could have referred to Haddad as the next President of Brazil but without saying that I am planning to vote for him".
For Bargas, it seems that Folha accepted at face-value Gentili's characterization of him as a left-wing militant. This is also the impression that the vast majority of readers got.
"The reporter performed very poorly [in the interview]. Folha should have put him in a training program or fired him, if necessary, for incompetence. But by firing him after a television announcer asked for his head, the newspaper is giving a terrible example of lack of support for an in-house professional and incentivizing other interviewees to throw [the journalist] to the lions every time they feel offended by criticism of their work", declared Julio Adamor Cruz Neto.
Editor-in-Chief Sérgio Dávila explained that Folha's reporters must avoid partisan-political statements, which tend to undermine the credibility of the journalists of Folha - which holds anti-partisanship as an editorial principle - and conduct themselves in a way that doesn't compromise the independence of their work.
Dávila pointed out that Gentili hadn't ever spoken with anyone in charge of the newspaper regarding the case.
The justification for the firing of a reporter demands coherence and consistency going forward. The postings of in-house professionals on social networks will be under scrutiny.
Coincidentally on the very same 13th of October "The New York Times" published an update to its orientation for conduct for its professionals on social networks. The guidelines follow the same lines as those outlined by Folha.
Folha should have analyzed the journalist's posts more carefully and heard out his explanations. It could have opted for a professional warning, a kind of alert used to remind each professional of their responsibilities. The journalist's technical failings should have been addressed and if not minimized or fixed in a short period of time, might have naturally resulted in his demission. But the attack that the professional suffered while working in Folha's name should not have been treated as something normal, without a firm response.
As things turned out, the wave of insecurity between professionals and readers was intensified. What kind of support can journalists expect while carrying out their responsibilities? What is the difference between legitimate public complaint and cyberbullying? These questions are still out there.
Translated by LLOYD HARDER