Latest Photo Galleries
Signs of Tension
Published on 04/11/2016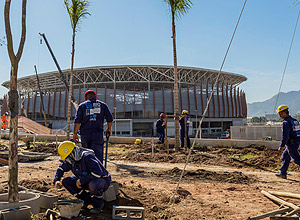 Rio: a City in Metamorphosis
Published on 11/19/2015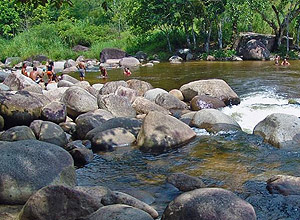 Crystal Unclear: A Future for Water Resources in Brazil
Brazilian Markets
18h23

Bovespa

-2,94%
112.256

16h43

Gold

0,00%
117

17h00

Dollar

+1,67%
5,5110

16h30

Euro

+0,49%
2,65250
Anchors in the Sea
11/13/2017 - 10h17
The removal of journalist William Waack, 65, anchor for the "Jornal da Globo" (Globe Network News) after a video was released in which he made racist comments, raises extremely relevant questions for today's world of information.
What is the influence of personal behavior, in a private setting, on a journalist and his professional conduct and activities. How do journalists and media companies react to pressure and the judgment of their actions on social networks?
The video which led to Waack's removal was recorded in November of 2016, during coverage of the American Presidential election. It shows comments he made that started with a slur and ended up demonstrating outright prejudice: "Why are you honking you little shit? I won't even comment because I know what he is", Waack said. Immediately afterward, the journalist looks at his guest and says in a hushed voice: "He's black, it's a black thing".
Cameraman Diego Rocha Pereira said that he saw the images in São Paulo - which were transmitted by satellite only on the network's internal circuit. Surprised by the content, he decided to record it on his cellular phone. Months later, after he had already left Globe network, he sent the images to friends in the black movement. These images were shared on social networks, spreading widely in a few hours, and became the most commented on subject of the day.
The majority reaction of indignation led Globe TV to decide to immediately suspend Waack and to open an analysis regarding his professional future at the broadcaster. Waack said that he didn't remember making the comments but apologized to those who felt outraged.
On the Folha 's site, the report wasn't open to comments, but readers voiced their opinions regarding the episode with the Ombudsman and on social networks. The majority criticized the anchorman.
Some journalists sided with Waack and, in his defense, cited a list of his professional qualities. They argued, basically, that a "lapse", a "jest" or a "joke" made in a private setting shouldn't be taken as a condemnation of his rigorous professional conduct.
Reader Caio Márcio Cunha protested "against the unjustified crucifixion" of the journalist. For him, Waack was merely expressing a personal opinion in a private setting after being the victim of an injustice. "He wasn't trying to offend (hurt) anybody, not even the person who did it", he wrote.
The opposite point-of-view was voiced by reader Igor Patrick, who complained of a certain condescension on the part of Folha for commenting on the journalist's extensive professional profile in its report: "Waack was recorded flagrantly making extremely racist comments. This isn't the time to extol his great achievements nor to minimize his mistakes. Sorry if [I] sound like a pamphleteer".
For Vinícious Mota, Editor-in-Chief, the report under criticism was attempting to give context to the main news element of the complaint by providing facts: "William Waack is a leading professional journalist. The accusation that he made racists comments doesn't erase his previous trajectory, it highlights it".
It isn't the journalist's career that is under discussion here. Folha should launch a profound debate regarding the theme, which, in its print version, has so far been limited to columnists.
Recently, another prestigious television anchor was caught flagrantly making prejudiced comments. On New Year's Eve, December 31st, 2009, Boris Casoy commented on an image on Band network's television news which showed two street sweepers wishing a "Merry Christmas".
Due to a technical glitch his comments were aired: "What shit, two garbage men wishing merry Christmas over their brooms. The lowest level of worker".
After thousands of views on the internet, Casoy apologized for his comment which he referred to as "a sad phrase". The broadcaster took no action whatsoever. The journalist was ordered to pay an indemnification to the street cleaner in 2013.
These cases remind me of a declaration made by Nigerian writer Chimamanda Ngozi Adichie in her book "Americanah", in which her analysis shows that the way in which racism is manifested in society has changed but not the language in which it is expressed.
She cites racist manifestations coming from people who are loved and esteemed by their families, by citizens who faithfully pay their taxes and behave highly professionally in their jobs. Even so, she declares, these manifestations are none less racist.
A journalist lives on the credibility that he constructs through his statements and actions. The more impartial and objective he is, the more credibility he builds. The racist comments that William Waack made have unveiled an aspect of his personality that will lead consumers of news to question his professional actions, but don't justify his virtual lynching.
One of the roles of the press is to uncover inconvenient facets of the people that they investigate. When one of their own engages in the kind of behavior that they condemn in public figures, journalistic groups can't be silent or they risk becoming accomplices.
Waack's punishment shouldn't be celebrated. It should serve as a warning to all journalists.
Translated by LLOYD HARDER