Latest Photo Galleries
Signs of Tension
Published on 04/11/2016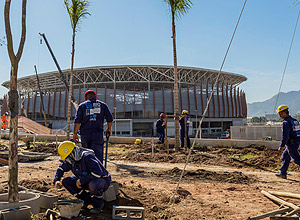 Rio: a City in Metamorphosis
Published on 11/19/2015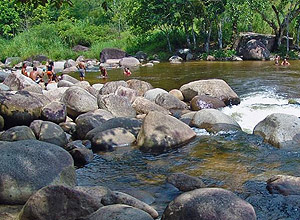 Crystal Unclear: A Future for Water Resources in Brazil
Brazilian Markets
18h23

Bovespa

-2,94%
112.256

16h43

Gold

0,00%
117

17h00

Dollar

+1,67%
5,5110

16h30

Euro

+0,49%
2,65250
The Journalist's Bedside Book
02/26/2018 - 11h30
In favor of methods. This was the title chosen to present readers with Folha's first Manual of Style and Usage on September 29th, 1984.
The country was on the path to re-democratization, enduring a suffocating economic crisis. Technologies that today are dominant and widespread were then restricted to laboratories and research groups.
The worldwide computer network that would later become known as the internet was in its early days.
No one questioned the survival of newspapers nor even imagined how a digital future would be.
Already criticized in its presentation in texts published in its own newspaper, the objective of the 1984 "Manual" was to "translate, into simple and empirical norms" the conception of a newspaper that Folha strived to put into practice.
During the presentation, Folha's director Otavio Frias Filho declared that the "Manual", "even with gaps and technical imperfections" served as an instrument for "a more professional attitude" and "to the benefit of a more technical, homogenous and stable product".
Under debate last Wednesday (the 21st) at the launching of the fifth edition of the "Manual of Style and Usage" the conclusion was crystal clear: good journalism can't be produced without clear methods.
The similarity in points of view, after more than 30 years have passed, isn't a coincidence. Even with all of the transformations that have taken place in the way that news is produced, circulated and consumed, the quality of information still is, and always will be, the primary objective and greatest challenge.
Manuals of Style and Usage are present at the majority of journalistic publications throughout the world. With varying specific objectives and different conceptions, they serve both those who practice journalism as well as readers who take interest in the news.
The fifth edition of Folha's Manual of Style and Usage codifies good journalistic practices and provides readers with a base for understanding the journalistic project and editorial choices and decisions.
Viewed by the newsroom as a kind of internal Constitution to be known and followed, it is a valuable instrument for readers to demand coherence and balance, and to understand the logic that leads the newspaper to publish (or not to publish) certain information, to understand the motive behind the adoption of certain nomenclatures (for example, what constitutes a dictator is frequently questioned by readers), to know how a journalist is expected to behave and what kind of relationship they can have with a source.
A message from reader Paulo Marinho is an example of the kind of challenge being faced in 2018 and how the "Manual" can aid in the production of the newspaper.
Marinho questioned: "Why does Folha treat candidates that are clearly from the 'right-of-center' as 'centrists'?" He is referring back to a section of a report that defines Geraldo Alckmin (PSDB Party) and Rodrigo Maia (DEM Party) as potential candidates from the center.
"Doesn't this seem to be an excessive over-simplification or even an imprecise definition? It is actually possible to argue that 'right-of-center' candidates are part of a larger group of 'centrist' candidates, which could justify treating them in this fashion. However, following the same logic, the newspaper should also refer to candidates from 'left-of-center' as 'centrists', but this doesn't happen", he complained.
In the chapter dedicated to journalistic practices, a long entry on "ideological definition (pages 114/115)" sheds light on the question while at the same time showing how complex the act of writing text can be.
In summary, it defines that the left-wing political variation as "advocating State activism designed to reduce social inequality". To the right are those "who promote state action in favor of protecting national and family values.
The center is described as "being composed of those promote economic liberalism and prescribe a limited role for the state".
It recommends that ideological definition should be "as precise as possible". The example above reveals that there is always a degree of subjectivity involved in putting the "Manual's" guidelines into practice.
Reader Paulo Marcos Gomes Lustoza reminds that a manual gives guidelines and orientation for a specific end-activity. "It doesn't prevent nonsense but incentivizes its correction and demonstrates how the institution that issued it understands the execution of the actions regulated by it".
Together with two former Ombusdmen, Suzana Singer and Vera Guimarães, I was part of the commission responsible for the elaboration of the new edition of the "Manual", which was coordinated by Uirá Machado, editor of the "Ilustríssima" section. Due to this I feel it inappropriate for myself to critically analyze its content.
I do feel comfortable recommending a title: "I made a mistake, but who doesn't make mistakes", a small collection of interesting, embarrassing and unbelievable corrections, resulting in a comic production, and at the same time, revealing what haste, ignorance and misinformation can lead to.
ABOUT THE RELATIONSHIP WITH READERS
"The reader is the journalist's primary interlocutor and the one who sustains the newspaper. His time is increasingly scarce and disputed by abundant sources of information. In order to guarantee his loyalty, he must be offered quality content, be ensured of receiving it and be engaged with attentive communication."
"Respond with agility and dignity to the reader's demands. Errors that are pointed out should be checked, and if verified, should be quickly corrected and published." (from the Manual of Style and Usage, 2018 Edition, page 55)
Translated by LLOYD HARDER