Latest Photo Galleries
Signs of Tension
Published on 04/11/2016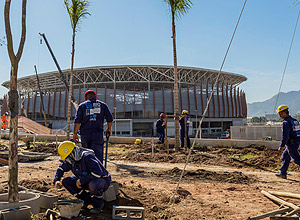 Rio: a City in Metamorphosis
Published on 11/19/2015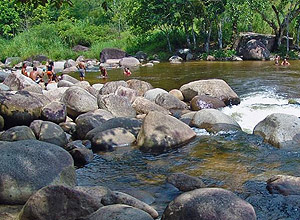 Crystal Unclear: A Future for Water Resources in Brazil
Brazilian Markets
18h23

Bovespa

-2,94%
112.256

16h43

Gold

0,00%
117

17h00

Dollar

+1,67%
5,5110

16h30

Euro

+0,49%
2,65250
Sexual Harassment in the Crosshairs
05/14/2018 - 13h07
The most prestigious international prize in journalism, the Pulitzer, was shared by the The New York Times newspaper and the New Yorker magazine for a series of reports on accusations of sexual harassment and rape against important names in cinema and media.
The award-winning reports published a series of accusations that at the end of 2017 led to the emergence of the #MeToo movement, which has encouraged women from all over the world to reveal episodes of abuse in their work environments.
In March 0f 2017, accusations of sexual harassment involving actor José Mayer were revealed in the Folha, but they weren't sufficient to transform the theme into one of the journalistic priorities for the year.
The scoop came from outside of the Newsroom. It was left up to the blog #AgoraÉQueSãoElas to publish a piece from costume designer Susslem Tontani, in which she accused the actor of sexual harassment inside of a TV Globo dressing room. As a consequence, women mobilized themselves and started the Messed With One of Us, Messed With All of Us (Mexeu com uma, mexeu com todas) movement. Once the actor was fired, however, the mobilization lost energy.
In Brazil, sexual harassment is defined in Article 216-A of the Penal Code: "Coercing someone with the purpose of obtaining sexual advantage or favor, with the agent taking advantage of his inherent status as a superior to or of being in a higher level in exercise of a job, position or function. Punishment of" "imprisonment of between one and two years".
As explained by Luiza Nagib Eluf, author of the book "Crimes of Habit and Sexual Harassment", here the conduct of sexual harassment "doesn't include whistling, cat-calls, flirting, "compliments", or physical sexual attacks. Sexual harassment doesn't assume physical contact but is limited to coercion practiced by a superior in the hierarchy or someone with a higher level over the victim".
I have repeatedly emphasized in internal critiques that I produce for Copy Editing and Editorial the importance of Folha prioritizing investigations regarding sexual harassment in the widest range of fields.
In fairness, it should be pointed out here that in April Folha published, exclusively, that soccer player Ruan Petrick Aguiar de Carvalho, 19, filed a police report in which he accused the coordinator of base categories for Club Santos, Ricardo Marco Crivelli, of sexually abusing him when he was 11 years old and was seeking a position in the base categories for the club. Crivelli was subsequently fired from the club but denies the accusations.
On a few occasions I have imagined that the newspaper might even seriously investigate accusations involving Brazilians like ballet dancer Marcelo Gomes, who resigned from the American Ballet, or fashion photographer André Passos. I've always been disappointed.
The newspaper has done better with reporting involving abuse by Brazilian diplomats in positions at UN organizations, without however, undertaking its own investigations.
With the successive revelations of sexual harassment in the outside world, Folha chose to publish translations from foreign newspapers and to collect its own discrete records.
In Brazil, the best reporting has come out of Fantástico from TV Globo (Global TV), which has described dozens of accusations against the coach for Brazil's national gymnastics team, Fernando de Carvalho Lopes. In a rare Brazilian example of a long and detailed investigation, reporter Joana de Assis was able to gather shockingly impressive accounts from his victims.
The agenda may have been inspired by the case of Physician Larry Nassar, from the US Gymnastics team, who has been accused of sexual abuse by more than 200 women and already found guilty in two cases.
In recent days, the theme has returned to headlines abroad with the condemnation for sexual aggression of comedian Bill Cosby and his expulsion along with director Roman Polanski (who raped a 13-year-old girl and has been accused by others) from the Oscar Academy, as well as the cancelation of a Nobel Prize for Literature after a crisis caused by accusations of sexual harassment against writer Jean-Claude Arnault, who is married to a poet who is a member of the institution.
I wouldn't have enough space here to cite the many, many cases. Accusations of sexual harassment have spread throughout different countries, in diverse environments including entertainment, culture, sports, diplomacy, media, fashion, universities, and corporations.
It is the type of investigation that is extremely difficult and complicated, which takes time and demands an appropriate approach and whose stories need to be carefully told. There are thousands of victims who could be willing to speak out.
What is lacking is an editorial decision to start such an investigation, with a taskforce similar to what is dedicated to investigating crimes involving corruption, for example.
What's being dealt with here isn't the revelation and spreading of gossip about the intimate affairs of famous people, but of uncovering a practice that has been accepted for too long in a society notorious for its macho bias.
Folha needs to abandon its position as a passive reproducer of information to become, in fact, a real agent of careful and solid investigations in Brazil. There is no behavioral question that is more widespread, urgent or in need of investigation than the multiple accusations of sexual harassment.
Translated by LLOYD HARDER