Latest Photo Galleries
Signs of Tension
Published on 04/11/2016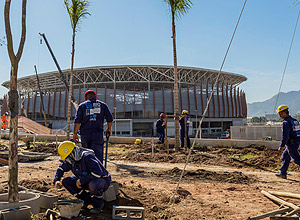 Rio: a City in Metamorphosis
Published on 11/19/2015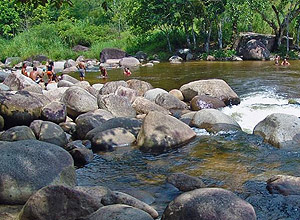 Crystal Unclear: A Future for Water Resources in Brazil
Brazilian Markets
18h23

Bovespa

-2,94%
112.256

16h43

Gold

0,00%
117

17h00

Dollar

+1,67%
5,5110

16h30

Euro

+0,49%
2,65250
Bombarded by Information
06/11/2018 - 10h37
Four days until the opening, there is still no World Cup climate in Brazil. Not even at Folha. But readers can prepare themselves for widespread coverage of the subject in the press and media priority in general in the next few weeks. It will be impossible to get away from the sports coverage no matter how hard one tries.
It is a spectacle of many stratospheres. A worldwide audience of 3 billion people. Around 5,000 journalists will be in Russia. No other event mobilizes so many professionals and countries in a single specific locale in such a compressed amount of time.
It isn't just about the sport itself. The Russians have invested R$ 38,4 billion (US$ 10.4 billion) in stadiums and infrastructure, 23% more than what was budgeted for the World Cup in Brazil in 2014. And the same kinds of questions regarding transparency and impartiality in public contracts that came up here four years ago have come up there as well.
The political use of sports is a part of Putin's strategy for maintaining his popularity.
These important issues tend to evaporate when the games begin. Passion for sport overtakes political-economic rationality. In a certain way, news coverage goes along and reflects this change.
Between June 14 and July 15, national teams from 32 countries will compete in 64 games, which will begin at between 7 AM and 3 PM local Brazilian time. Folha and all newspapers will face two totally different challenges, with different specific demands and difficulties.
Inevitably there will be two Folha newspapers. The one printed on paper will talk about facts and things that happened at a minimum 10 hours earlier, mostly those that were overtly transmitted by uncountable cameras. The digital version will be tasked with providing information in real time, competing with other newspaper and TV sites from all over the world.
The Brazilian team is a worldwide attraction. As such, the Brazilian press will be under the same kind of scrutiny as the players. It will have to show that it is up on its game at the same level as the best news organizations in the world.
Brazil's current serious political-economic crisis doesn't lend itself to the relaxation of humor and the emotional appreciation of a sporting spectacle. Just as it didn't allow for major investment in the event itself. This coldness is evident in the Folha 's pages. Up until now, the newspaper has published discrete editions, without audacious writing or graphics, with little offered in the way of differences or reader attraction.
Last week, the publication of a video - summarizing a report from the cover of the sports section - with an analysis by Tostão (former star player) regarding the tactics adopted by favorite teams, utilizing miniature button soccer players, was a lucid present for readers. It was, however, too little. Many readers complained about the lack of basic information.
"The World Cup is about to start, all the teams are playing friendly games, it's impossible to follow it all, let's take a look at the scores. Where is it all? Nowhere! Ah, but the site has it. Why do I insist on reading the print edition of the newspaper?", wrote in a female fan and reader.
The limited amount of space available on paper is a reality. A reader with experience with past World Cups will certainly find printed coverage to be thin. The migration of readers to the site isn't always so easy, natural or frequent.
When I cited the coexistence of two *Folha*s during the World Cup, I was referring to a kind of reader who doesn't have experience with the complimentary nature of the paper and digital formats. They are satisfied by an offering with a range of reports and analysis with denser approaches than those offered on electronic platforms.
A festival of images, the World Cup is a television spectacle, which needs to be captured in a creative way by the newspapers' digital editions. Leave it to the printed press to introduce reflection, criticism, contextualization and creative narrative, highlighting personalities and angles given less exposure.
Folha has - by far - the best team of sports commentators. It needs to add to these by inviting others with different profiles to analyze the competition from varied angles. This is a characteristic of the newspaper's coverage that has become traditional and efficient.
A comparison of the general news coverage of the World Cup with that produced by foreign vehicles leaves Folha and Brazilian press leagues behind. Even an economic publication, like the Financial Times, is doing a better job than national ones.
The British newspaper is offering its readers a series of articles that deal with the World Cup starting from a political-economic aspect all the way through the behavioral, with an excellent page on fashion and another with a guide to following it on social networks and television.
There is no other event in the world in which Brazilians invest so much of their time and passion as the World Cup. Each edition will demand creativity to overcome the avalanche of information of all kinds coming from everywhere.
The Russian World Cup should be the one with the greatest number of options for multiplatform following. If it is covered through the lens of the past, the result for newspapers will be equivalent to the tragic 7-to-1 previous win of Germany over Brazil.
Translated by LLOYD HARDER