Latest Photo Galleries
Signs of Tension
Published on 04/11/2016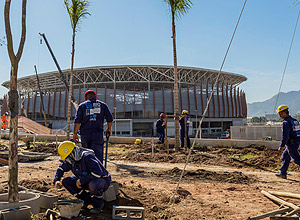 Rio: a City in Metamorphosis
Published on 11/19/2015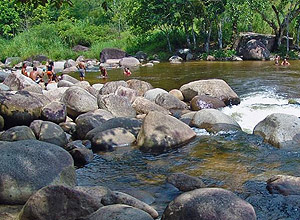 Crystal Unclear: A Future for Water Resources in Brazil
Brazilian Markets
18h23

Bovespa

-1,39%
99.606

16h43

Gold

0,00%
117

17h00

Dollar

+1,24%
5,6830

16h30

Euro

+0,49%
2,65250
Summits
06/21/2012 - 03h00
KENNETH MAXWELL
FOLHA COLUMNIST
This week has witnessed two summits. The group of 20 advanced and developing countries meet in Los Cabos, Baja California, Mexico, and the Rio+20 is meeting in Rio de Janeiro. Neither it seems will produce much progress, either on the international economy, or on the future of the world environment. I may be wrong on both counts, I hope I will be. But the prognostications are not favorable.
The group of 20 turned into "a beat up" Angela Merkel affair. President Barack Obama joined the chorus of complaint that the euro crisis is all Germany's fault. It is a little like blaming the creditors for all the debtors debts. If only it were that simple. It is not unreasonable for the German voters to expect the Greeks, Portuguese, Spanish and Italians to pay back what they borrowed. The problem remains that democracy in Europe remains national, and German voters are not favorable to more bailouts which they in the end will have to pay for. Merkel is not a free agent.
There are, however, always two sides to any story. It is at the core an old tale of boom and bust, of excessive borrowing against inflated property values, specially in Spain. The value of these properties have now collapsed, leaving the banks in the middle, and in dire need of rescue by the tax payers. It will take much more than an elusive fiscal union within the euro zone to sort out the problem.The US also has to get its act together. The US presidential election is only postponing the problem. As a frustrated European president, José Manuel Durão Barroso pointed out angrily at Los Cabos, the crisis originally began in the US financial sector.
The UN Conference on Environment and Development, or the Rio+20 Earth Eco-Summit in Rio de Janeiro, likewise faces some embarrassing impasses over fundamental questions. president Obama, chancellor Merkel and British prime minister, David Cameron, will not be attending. But president Ahmadinejad, of Iran, will be there, as will the new French president François Hollande, and the new Russian president, Vladimir Putin. In 1992, President George H.W. Bush attended the Rio eco-summit. But this time the "rich" countries have little to offer.
Colombia is promoting Sustainable Development Goals, something much less than the grand promises made 20 years ago. Marina Silva, meanwhile, has called for the encampment of NGO's, indigenous peoples, human rights activist and women's groups in Flamengo Park to make a new Tahrir square in Rio. But Egypt has faced a very ambiguous democratization since the promise of last year. Would that it were different.
As Chamberlain found out at Munich in 1938, the promises made at summits are not always what they seem to be.