Latest Photo Galleries
Signs of Tension
Published on 04/11/2016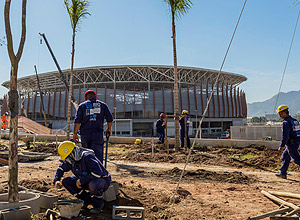 Rio: a City in Metamorphosis
Published on 11/19/2015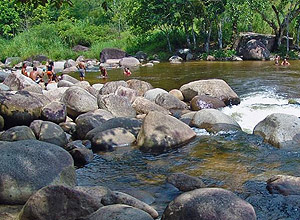 Crystal Unclear: A Future for Water Resources in Brazil
Brazilian Markets
18h23

Bovespa

-1,39%
99.606

16h43

Gold

0,00%
117

17h00

Dollar

+1,24%
5,6830

16h30

Euro

+0,49%
2,65250
Central Rio taken over by protests
06/21/2012 - 13h23
LAURA CAPRIGLIONE
SPECIAL CORRESPONDENT IN RIO
LUCAS VETTORAZZO
FROM RIO
Every imaginable kind of demonstration could be found yesterday afternoon on Rio Branco Avenue in the center of Rio de Janeiro. According to police, there were between 15,000 and 20,000 people. The head of the People's Summit, who called for the protest, put the number of participants at 50,000.
Ecologists, homeless, landless, feminists, homosexuals, professors on strike, hare-krishnas and evangelists all came to protest against the "green economy" and "in defense of the common good and the rights of the people."
Without speaking a word of Portuguese and just a bit of English, the religious German Franciscan Han Jürgen managed to make himself understood: "The green economy is the same thing as the old capitalism with a new label. And where there is capitalism, there is social inequality," he said.
"This is an anticapitalist demonstration," said student Shananda Linder, 19, who marched in the feminist line, one of the more lively demonstrations. "Hey Vatican, we can get an abortion without you," was one of the battle cries of the group.
Dilma, as the head of the Workers Party (PT) and the president of Brazil, was in the crosshairs of the group's anger. "The people are in the street. Dilma, it's your fault," yelled the militants in the Greenpeace line, criticizing the government's approval the new Forest Code.
"Puppet Dilma, Puppet Dilma," could also be heard from the line of people defending the springs of Maranhão. Shelly de Andrade Moutinho, 38, a small-scale farmer explained: "Dilma is the puppet of agrobusiness."
Cartoonish effigies of Dilma appeared in the lines of professors from federal universities who have been on strike for more than a month demanding an increase in their salaries.
DIVERSITY
Just about anything was fair game. Trash scavengers carried the banner "God recycles, the devil burns." Argentinean demonstrators protested against a mining company. Some even had the delicate audacity to include the radical suggestion: "Save the planet, kill yourself," written in English on a poster with the cloud from an atomic bomb. No one messed with them.
Motivated by the People's Summit, one of the parallel events with Rio+20 that brought together NGOs and activists from all over the world, some strangers participated in the demonstration.
The American activist Karli Akuno walked in the middle of the crowd, pushing her son in a baby stroller. She came from the state of Georgia, and she was using the demonstration to show her dissatisfaction with the official U.N. discussions that were taking place in the Riocentro convention center. "It's an event for demagogues," she said.
There was no final rally at the end of the protest. It would have been hard to get so many people, groups, unions, NGOs and parties together on one platform.
Translated by ANNA EDGERTON