Latest Photo Galleries
Signs of Tension
Published on 04/11/2016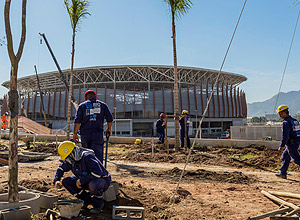 Rio: a City in Metamorphosis
Published on 11/19/2015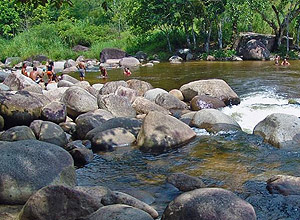 Crystal Unclear: A Future for Water Resources in Brazil
Brazilian Markets
18h23

Bovespa

-1,39%
99.606

16h43

Gold

0,00%
117

17h00

Dollar

+1,24%
5,6830

16h30

Euro

+0,49%
2,65250
Summit repeats promises and defers action until 2015
06/23/2012 - 13h46
The U.N. conference on sustainable development ended exactly as it began: with a melancholy tone and without surprises.
In a world fallen victim to the economic crisis, the 114 leaders who were gathered at the Riocentro convention center settled for repeating the promises made in 1992 and putting off new action that the science community says is urgent.
They approved the 53-page document, "The Future We Want," which, without consensus on issues like how to finance proposed reforms, ended up being pushed through as is by the host country. The document was finalized three days before the end of the conference, during which it was widely criticized.
MAGIC DATE
The text designates the year 2015 as the new magic date for global sustainability. This will be the starting point for the Sustainable Development Goals, an idea introduced in Rio whose central themes and goals will be defined beginning in 2013.
These goals are the main international process launched by Rio+20, which also promised to adopt a 10-year program to review humanity's patterns of production and consumption.
Other hoped-for decisions have also been put off, such as a mechanism for financing sustainable development and an agreement on the protection of oceans.
"If you want an image, it's like moving the deck furniture on the Titanic," said Kumi Naidoo, the executive director of Greenpeace, taking stock of the meeting.
Brazilian president Dilma Rousseff, who closed the conference last night, said that Rio+20 is "a starting point, not an ending point."
For her, the document represents what is possible, but "it's obvious that it does not meet" the standards of Brazilian practice. "I can't measure every country with the same criteria as Brazil. Multilateralism is about respect. You could wish that it were different, but it's not, and it doesn't help to criticize [the consensus]."
The secretary-general of the conference, Sha Zukang, said that part of the legacy of Rio+20 will be the voluntary commitments signed between the private sector, governments and civil society. According to him, 692 agreements were registered, which will help direct R$1.6 trillion to sustainable development in the next 10 years.
The main part of the resources will come from eight different development banks, which promised to direct R$ 350 billion to sustainable transportation projects in Asia, Latin America and Africa.
The executive coordinator of Rio+20, Brice Lalonde, compare this final document to that of Eco-92.
"Although is does not appear to be as spectacular as the document from 92, the result today is maybe more serious, because not everything that was agreed upon in 92 was implemented," he said.
Sha did, however, throw out one note of caution, remembering that the commitments made by countries at the Copenhagen summit in 2009 still have not been completed today.
Translated by ANNA EDGERTON