Latest Photo Galleries
Signs of Tension
Published on 04/11/2016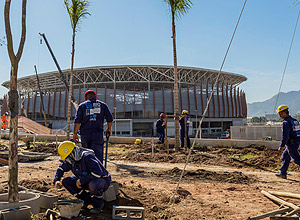 Rio: a City in Metamorphosis
Published on 11/19/2015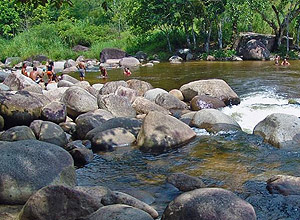 Crystal Unclear: A Future for Water Resources in Brazil
Brazilian Markets
18h23

Bovespa

-1,39%
99.606

16h43

Gold

0,00%
117

17h00

Dollar

+1,24%
5,6830

16h30

Euro

+0,49%
2,65250
Rio+20 is the starting point, not the ending point, says Dilma
06/23/2012 - 13h55
FERNANDO RODRIGUES
SPECIAL CORRESPONDENT IN RIO DE JANEIRO
Brazilian president Dilma Rousseff said in an interview at the Riocentro convention center that Rio+20 is "a starting point, not an ending point." For her, the final document of the conference represents what is possible, but "it's obvious that it does not meet" the standards of Brazilian practice. "We are perhaps, the most advanced country on environmental spending, but I can't measure every country with the same criteria as Brazil. Multilateralism is about respect. You could wish that it were different, but it's not, and it doesn't help to criticize [the consensus]."
The interview took place just before the president spoke at the closing session of the United Nations Conference on Sustainable Development, Rio+20, in Rio de Janeiro.
For Dilma, what was done at Rio+20 was to construct a "historical consensus." The president said that the document "The Future We Want" does not limit the action of individual countries.
"From this moment, all nations should move forward. No one should be left behind; all should be able to go beyond this position. This means that the next conference needs to move another step forward."
The president said that Rio+20 had the "wide participation" of civil society like never before at other U.N. conferences. Confronted with the criticism that she received from this third sector, she said: "I view the reaction of civil society as normal; what is happening here is a conference of sovereign countries." She added: "It's obvious that NGOs can help put together a document" of their own, but "we are constructing a space to listen to them."
Dilma remembered that in another conference on sustainable development, in 2009 in Copenhagen, "there was no consensus whatsoever." This is one reason why she considers Rio+20 to be an improvement for at least having produced a formal document-even if it is just a list of declarations and good intentions.
Dilma made a veiled criticism of developed countries, led by the United States, which rejected the creation of a green fund to help the transition of emerging and poor countries to become models of sustainable development.
"In Los Cabos, Mexico, the BRIC countries gave US$75 billion to the IMF. One African country, South Africa, was generous enough to understand the crisis in Europe and contributed US$2 billion. It understands the gravity of the situation in Europe," said Dilma when asked about the reason that rich countries rejected the green fund.
But later, Dilma dialed down her criticism. "I don't think that anyone is responsible for any of the setbacks," she said. For the president, "many countries are going through a difficult time." This contributed to the difficulty in passing many of the commitments in the final document of Rio+20.
When asked if the final document met her expectations, Dilma said: "Is it up to our standards? Obviously not." She followed with a comparison of Brazil's energy grid (47 percent from renewable sources) with that of other developed countries who use much less renewable energy.
"But I can't measure every country with the same criteria as Brazil," said the president. She applauded the "ability" of Brazil to host a "conference the size of Rio+20," and to offer a "common platform," in this case, the final document. "This is a big achievement." And she concluded: "My expectation is broadly satisfied."
The final document will serve, from now on, as a foundation for the signatory countries to set their own course to be followed: "From now on, we will measure by this standard."
Translated by ANNA EDGERTON