Latest Photo Galleries
Signs of Tension
Published on 04/11/2016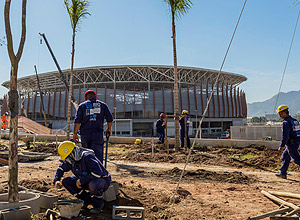 Rio: a City in Metamorphosis
Published on 11/19/2015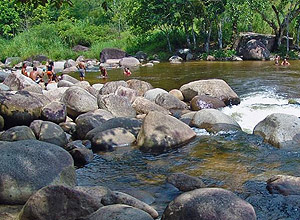 Crystal Unclear: A Future for Water Resources in Brazil
Brazilian Markets
17h37

Bovespa

-1,09%
126.786

16h43

Gold

0,00%
117

17h00

Dollar

+1,38%
4,9478

16h30

Euro

+0,49%
2,65250
Despite the Largest Reserves of Fresh Water on the Planet, Brazil Is Undergoing a Water Crisis
08/05/2014 - 10h00
EDUARDO GIANETTI
SPECIAL REPORT FOR FOLHA
'Why, Nature, waste thy wonders on such men?' asked Lord Byron, in the guise of his protagonist Childe Harold, when he visited Portugal in 1812. Joaquim Bonifácio expressed similar sentiments the year of Brazil's independence: 'Nature has done everything in our favor; we, however, have done little or nothing in hers.'
Bonifácio's words are as true now as they were then. Need we look any further than the state of the water in the River Tietê, or in the Guanabara Bay?
Despite having the largest reserves of fresh water on the planet, Brazil is currently undergoing a water crisis. São Paulo is not an isolated case. One third of Brazilian households have suffered some kind of disruption to their water supply in the last 30 days, according to a Datafolha survey.
And according to the Urban Water Supply Atlas from 2011, 55% of Brazilian municipalities - 73% of total demand - will suffer from water shortages in the next decade. However, these shortages are only the most obvious sign of the ineptitude with which our water resources are managed.
Moacyr Lopes Junior/Folhapress
Drought on the banks of the Cantareira dam, in Sao Paulo; the system is undergoing a crisis of water shortage
The root of the problem is the increase in Brazilian water consumption - today, one of the highest in the world - combined with total negligence towards water treatment and efficient use.
Today, thanks to government programs aimed at universalizing access to water, 95% of Brazil's urban population receives water piped directly to their homes. However, there has not been a corresponding effort in the collection, treatment and recycling of water resources.
This is why we arrive at the 21st century with nothing less than 85% of our residential waste (145 million people) being dumped daily in natura in our rivers, streams, lakes and other public areas, and 45% of Brazilian children under 14 living in households without sewage collection.
Illegal disposal and waste of water also contribute to the problem. A study at São Paulo's Getúlio Vargas Foundation estimated that the industries in Greater São Paulo waste, illegally, 10 million liters of water per hour, while leaks, and the illegal diversion of water resources, amount to 37% at the Brazilian average.
And the result of all this? The amount of water recycled in our houses and factories is pitiful, the rivers and lakes in our urban centers - which should be viable sources of water - have become open sewers, and the water we do treat is too often frittered away. Not to mention the effect this has on our health, education and work.
We have constructed a model based on the supply from enormous dams, which are increasingly distant and expensive, without taking the slightest care to treat, recycle and preserve resources closer to home. In short, it is unsustainable, and represents a grave long-term threat to our water supply.
Translated by TOM GATEHOUSE