Latest Photo Galleries
Signs of Tension
Published on 04/11/2016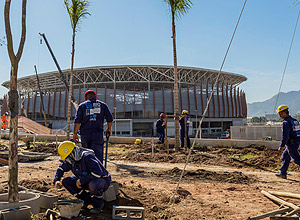 Rio: a City in Metamorphosis
Published on 11/19/2015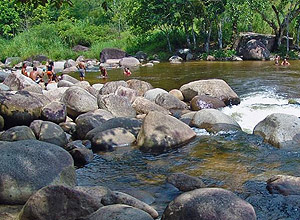 Crystal Unclear: A Future for Water Resources in Brazil
Brazilian Markets
18h19

Bovespa

-1,33%
69.815

16h43

Gold

0,00%
117

17h00

Dollar

+0,29%
3,7410

16h30

Euro

+0,49%
2,65250
Street Dweller sets up a 'House' with a Couch and Rug, but São Paulo City Hall takes it down; 'I'll build it again', he Declares
04/25/2017 - 11h36
EDUARDO ANIZELLI
ARTUR RODRIGUES
FROM SÃO PAULO
Vlademir Delvechio, 33, went out in the early afternoon on Monday (the 24th) and when he came back, his house was no longer there.
The furniture and belongings that had made up a kind of living room under the President João Goulart (Minhocão) overpass in the center of São Paulo, had been piled onto a truck from City Hall.
Starting three months ago the street dweller had been setting up the dwelling space with items that he collected from the garbage.
The locale had a couch, rug, cabinets and frames. "I was starting to become famous, and I think they didn't like that. But I'm going to give this crew a headache. I'll set everything up again, until they fix up our lives", he said.
He confirmed that he had started receiving donations to rebuild his dwelling in the open air. On Monday afternoon, he already had a mattress. "I think they should help out first, before taking stuff away", he said. "It really makes me sad. I fought to have my few things."
Eduardo Anizelli/Folhapress
He wasn't the only one to have had his belongings taken away. "They took my mattress too. I'll have to sleep on the cold ground", said Breno Brito, 23.
The dwelling was a symbol of Delvechio's personal struggle against crack cocaine. He has been interned more than once and was arrested for theft at 19 years of age.
Born in greater São Paulo and raised on the coast, he ended up on the streets procuring crack "rocks" for three years, after arriving in the São Paulo Capital looking for work as a painter.
He lived in cracolândia (crack land) until "escaping" to stay under the Minhocão overpass.
City Hall declared that it has followed legal procedures, including calling in teams of social workers before the removal.
The written communication also informed that the belongings are in City Hall's storage facilities, where Delvechio is free to retrieve them. After overturning an order from the Fernando Haddad (PT Party) administration that prohibited the removal of street dwellers, the current administration has started removing mini-favelas (slums) from the city.
Translated by LLOYD HARDER