Latest Photo Galleries
Signs of Tension
Published on 04/11/2016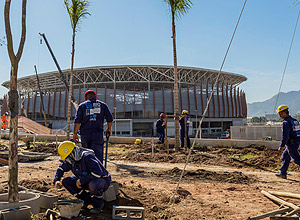 Rio: a City in Metamorphosis
Published on 11/19/2015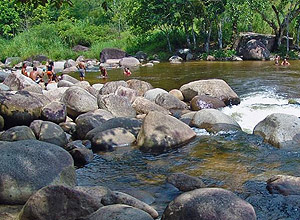 Crystal Unclear: A Future for Water Resources in Brazil
Brazilian Markets
18h24

Bovespa

+1,42%
78.602

16h43

Gold

0,00%
117

17h00

Dollar

-0,79%
3,8670

16h30

Euro

+0,49%
2,65250
As São Paulo's Poor Deal with Hunger, Some Rely on Handouts
10/30/2017 - 14h59
MARIANA ZYLBERKAN
GIBA BERGAMIM JR.
FROM SÃO PAULO
Just days ago, after announcing that a "blessed" product "for the hungry" in São Paulo, made from food about to expire, would hit the shelves, mayor João Doria (PSDB) not only caught his own team off guard, he also helped raise a question: who is in need of food in the country's wealthiest city?
Not even the mayor's staff has an answer to the question. The fact remains that Doria handled the promotion of the product poorly, although his diagnosis was correct: the reality of those living in the poor pockets of São Paulo is tough, as entire families live on a poor, repetitive and industrialized diet - that is, when they have access to food. Many others have gone hungry.
Folha explored different parts of the city and came across people who had no idea if they would have anything to eat the following day. While some children had to skip breakfast and eat ramen for both lunch and dinner, the meals of other families simply consisted of rice - and nothing else.
Cases of this sort fall under a category devised by the Brazilian Institute of Geography and Statistics, referred to as a state of "severe dietary vulnerability". Families that are in such a vulnerable state suffer from food deprivation which, in its most extreme form, involves hunger.
Such is the case of Jeferson Oliveira, 29, who is unemployed, and his family. He lives in a tiny shack with his wife and two kids, aged 9 and 10. At their home in the Cimento favela, in São Paulo's eastern district, they sometimes "just have beans" for lunch, or all meals of the day will consist of ramen, which they cook on a haphazard stove made out of rocks and alcohol.
In São Paulo's southern district, over in Grajaú, 45 kilometers away from Jeferson's humble shack, neighbors and organizations provide small amounts of rice for Ivone de Fátima, 39, who is also unemployed, so she can feed her family. She avoids cooking beans in order to save up on gas - a new gas canister runs her R$ 80 (approximately US$ 25).
According to the Map of Dietary Insecurity elaborated in 2014 by the Ministry of Social Development - the most recent numbers on the matter available - Jeferson and Ivone belong to just two of the more than 50,000 families in São Paulo that are under the risk of malnutrition.
Translated by THOMAS MATHEWSON
Read the article in the original language
Marlene Bergamo/Folhapress
The reality of those living in the poor pockets of São Paulo is tough, as entire families live on a poor, repetitive and industrialized diet