Latest Photo Galleries
Signs of Tension
Published on 04/11/2016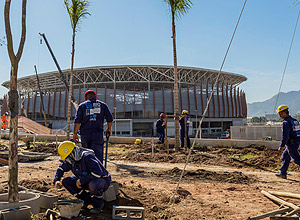 Rio: a City in Metamorphosis
Published on 11/19/2015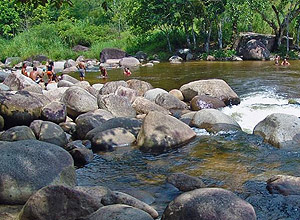 Crystal Unclear: A Future for Water Resources in Brazil
Brazilian Markets
18h20

Bovespa

+2,95%
88.515

16h43

Gold

0,00%
117

17h00

Dollar

-1,18%
3,7390

16h30

Euro

+0,49%
2,65250
Crime Rate on the Mario Covas Beltway in São Paulo Is Elevated
06/04/2018 - 12h23
When it comes to crimes committed against drivers on highways in the state of São Paulo, the Rodoanel Mário Covas, a beltway enveloping the city of São Paulo, is the most dangerous.
Crimes may consist of criminals throwing stones at the windshields of passing vehicles, or the use of large concrete blocks placed on the highway with the intent of forcing drivers to stop in the emergency lane before getting mugged.
Crimes of the sort have become very commonplace on the Mário Covas beltway, where dozens of cases have been reported, particularly in the stretches next to municipalities such as Carapicuíba, Osasco, São Bernardo and Santo André, all of which are surrounded by slums.
Data provided by the Military Police demonstrates that from January 2017 to March 2018, 34 attacks were carried out on the beltway, which is equivalent to 31% of the 111 robberies that São Paulo police were aware of on state highways.
Marcio Ribeiro/Brazil Photo Press/Folhapress
Rodoanel Mário Covas, a beltway enveloping the city of São Paulo
This drastic situation on the beltway led the São Paulo government to modify the patrolling system on the highway last October. A team of approximately 240 Military Police officers was assembled with the specific task of monitoring the Rodoanel Mário Covas.
A Highway Patrol spokesman said that there has been intense surveillance on the beltway, including operations that are carried out in areas with the highest crime rates, such as 24-hour patrolling.
"We reinforce those areas with police officers. Then, it either fixes things or the criminals migrate to a different location and we pursue them as if it were a rat chase," Captain Capelari said. "We are deploying lots of officers and vehicles in order to inhibit this sort of behavior," he added.
The Highway Police recommends drivers to try and keep driving in the event that their cars get struck by a rock. "If you run over something in a remote place and your car doesn't break down, then don't stop, even if you have to drive at a reduced speed. Try to get to a [police] station".
The police also request that citizens report such incidents to officials: "Reports are important because they can help pinpoint locations where police should be deployed".
Translated by THOMAS MATHEWSON