Latest Photo Galleries
Signs of Tension
Published on 04/11/2016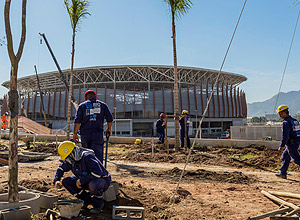 Rio: a City in Metamorphosis
Published on 11/19/2015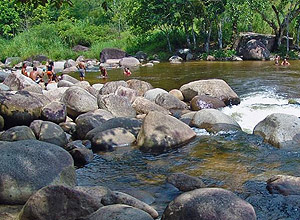 Crystal Unclear: A Future for Water Resources in Brazil
Brazilian Markets
18h16

Bovespa

+0,80%
70.641

16h43

Gold

0,00%
117

17h00

Dollar

+0,58%
3,7840

16h30

Euro

+0,49%
2,65250
Amazon Virus Moves Quicker than Dengue
09/02/2013 - 08h55
REINDALDO JOSÉ LOPES
SPECIAL TO FOLHA
An Amazon virus that causes symptoms similar to those of dengue had part of its action mechanism unraveled by researchers from UFRJ (Federal University of Rio de Janeiro).
The bad news: it is able to invade parasite cells faster than the flu virus or than dengue.
It is another sign that it is necessary to carefully monitor the Mayaro virus, which, for the time being, principally affects people that enter the forest.
Carlos Carvalho, PhD, from UFRJ's Structural Biology of Viruses Laboratory, presented the new data about the dynamics of the Mayaro virus attack during the most recent Fesbe (Federation of Societies of Experimental Biology) meeting in Caxambu, Minas Gerais. He noted that the virus has been present since the 1950s, with around 1,000 cases of infection confirmed (the true number should be higher due to the illness's similarities with dengue).
James Gathany/Associated Press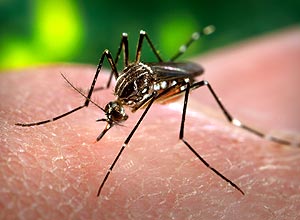 This 2006 photo shows a female Aedes aegypti mosquito acquiring a blood meal from a human host
It is believed that the Mayaro virus circulates in monkeys and the bodies of other animals, like birds. Its vector (transmitter body) is the Haemagogus genus mosquito, which can bite people and transmit the virus.
"There are cases registered of people bitten in the Amazon who later have symptoms manifest in their native countries in Europe," said a UFRJ researcher.
Laboratories have also already shown that the Mayaro virus can be transmitted by the Aedes aegypti mosquito, infamous for transmitting dengue. If the virus evolves to "colonize" the A. aegypti with more frequency and efficiency, the urban transmission of the pathogen would be possible.
It wouldn't be a hecatomb - there are no cases of death caused by the Mayaro virus - but the damage would still be severe because the virus causes joint inflammation.
Translated by JILL LANGLOIS
Read the article in the original language
+Latest news in english
"[ Rousseff Criticizes Brazilian Diplomat over Bolivian Senator's Flee":http://www1.folha.uol.com.br/internacional/en/world/2013/08/1333161-rousseff-criticizes-brazilian-diplomat-over-bolivian-senators-flee.shtml