Latest Photo Galleries
Signs of Tension
Published on 04/11/2016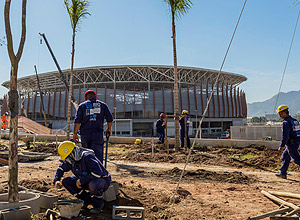 Rio: a City in Metamorphosis
Published on 11/19/2015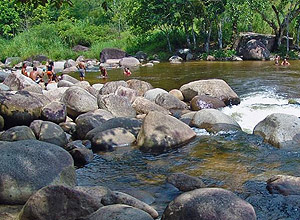 Crystal Unclear: A Future for Water Resources in Brazil
Brazilian Markets
18h19

Bovespa

+1,99%
101.202

16h43

Gold

0,00%
117

17h00

Dollar

-0,51%
4,0310

16h30

Euro

+0,49%
2,65250
USSR may have concealed death of cosmonauts, says NASA administrator
03/06/2015 - 12h58
SALVADOR NOGUEIRA
SPECIAL ENVOY TO BRASILIA
FLÁVIA FOREQUE
FROM BRASILIA
The Soviet Union may have hidden the death of cosmonauts in space accidents, Charles Bolden has said, a NASA Administrator (US space agency), as told to Folha during a trip to Brazil last week.
Sérgio Lima/Folhapress
Charles Bolden, NASA administrator, during conference at Museu da República, in Brasília.
The statement comes at a time of tension between Russians and Americans, at the face of conflict between Ukraine and pro-Russian separatists. At 68, he is the first black man to head the agency, and has been in
this position since 2009. Previously, he was an astronaut. He has flown four times.
*
Folha - You were an astronaut and eventually became NASA's administrator. What has changed in your view?
Charles Bolden - When I was an astronaut, all I wanted to do was make sure I was in the next list of astronauts to go into space. I never took into account what was happening in Washington. I just knew there was someone there trying to get a budget.
Do you feel nostalgic for the space shuttle?
To be honest, yes and no. I miss it because it was a vehicle I had the opportunity to fly and it was absolutely amazing. I doubt that we will have such a good shuttle: it could take a huge load to space and carry a crew of seven austronauts. The problem is that it was designed to access the low Earth orbit.
The shuttle also had a problem with security...
No, it did not. It is a very common mistake. It was among the safest vehicles ever used. But it was not a vehicle designed to go beyond low Earth orbit, and we wanted to explore [space].
Nevertheless, statistics on space shuttles are not good, there is around one catastrophic loss of a vehicle to every 60 flights. This is not very secure...
It's pretty safe to spaceflight. What is the car accident rate in Brazil? I do not know, but we cannot compare cars with space shuttles.
Let's compare space shuttles to space shuttles...
OK, tell me a spaceship you know.
The Russian Soyuz.
Do you know how many people died in the Soyuz?
Three? [In fact, it was four. American space shuttles, which flew between 1981 and 2011, killed 14 astronauts in two accidents.]
There were more. In the days of the Soviet Union... We do not know.
We do not know how many crew members were lost in the Soviet times. The deaths that have been claimed add up to three crew members killed in an accident that we know happened due to leaks. We do not know if
there was more. [Bolden refers to the accident of Soyuz-11, 1971; he and Folha's crew forgot the Soyuz-1 parachute failure, in 1967, which killed a crew member].
You have been saying that we might make it to Mars by the 2030s. How are you sure that it will happen by that time?
There's no way to be sure. You need support from Congress and future administrations. Because 2030 will come after several administrations. I always use the term "constancy of purpose." You cannot keep going
back and forth, and this has been very difficult for American programs, not only in space.
And do you think China should be brought into the effort?
I do not have this option. We can sit here and debate, but it would be of no use, because the US Congress says I cannot work with China. But China will join the family of space nations, unless they do something
really bad along the way. They have a good space program and they have got money.
Translated by CRISTIANE COSTA LIMA