Latest Photo Galleries
Signs of Tension
Published on 04/11/2016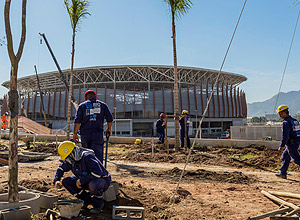 Rio: a City in Metamorphosis
Published on 11/19/2015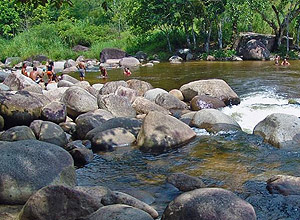 Crystal Unclear: A Future for Water Resources in Brazil
Brazilian Markets
17h38

Bovespa

+3,02%
103.821

16h43

Gold

0,00%
117

17h00

Dollar

-0,21%
5,6590

16h30

Euro

+0,49%
2,65250
New Medicine Cures Malaria in Rodents
09/08/2016 - 12h28
RICARDO BONALUME NETO
FROM SÃO PAULO
A new generation of drugs promises to revolutionize the prevention and treatment of malaria. After researching some 100,000 compounds, an international team discovered a series of them that can prevent and cure the disease in mice with only one dose.
Although the number of cases among people at risk fell 37% in the world between 2000 and 2015, some 3.2 billion people live in areas where the disease is transmitted. In 2015, some 214 million cases of malaria were registered, causing 438,000 deaths in the world.
The disease is transmitted by mosquito bites and is caused by a parasite, plasmodium, which affects blood cells and the liver. The risk of death is higher when the brain is also affected.
"The strategies to eradicate the disease have proven to be ineffective, especially due to the complex life cycle of the plasmodium and the appearance of lineages that are resistant to Plasmodium falciparum, a species of Plasmodium that is more deadly," wrote the nearly 50 authors of the study, members of institutions of seven countries, in an article published in "Nature" journal.
The research was coordinated by Nobutaka Kato, Eamon Comer and Stuart L. Schreiber, of the Broad Institute, connected to Harvard University and MIT (U.S.).
In general, the existing treatments attack the parasite in only one phase of its life cycle in the human body, most of the times when it is in the blood stream. However, the team coordinated by the Broad Institute discovered a series of drugs that attack the plasmoidium in various cycles of its life.
The new drugs also have a preventive potential. "I our study on animals, the mice treated with our compound did not develop malaria even when the drug had been given three days before they were infected. That means that taking the compound twice a week will protect the individual against malaria. But remember that these results on animals may not be effective in humans," says Nobutaka Kato.
Translated by THOMAS MUELLO
Read the article in the original language
Flicker/Yasser/cdc.gov
The disease is transmitted by mosquito bites and is caused by a parasite, plasmodium, which affects blood cells and the liver